Ukraine denies Russian claim it killed hundreds of soldiers
Comments
By Euronews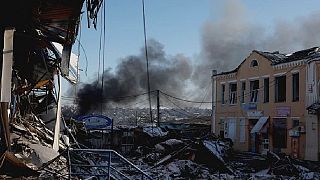 Just days after Ukraine killed hundreds of Russian fighters in an attack on a temporary barracks in the town of Makiivka on New Year's Eve, Moscow claims to have carried out a "massive missile strike" in Kramatorsk that left up to 600 soldiers dead.
But the mayor of Kramatorsk Oleksandr Honcharenko said there had been no deaths from strikes over the weekend and labelled Moscow's claim "propaganda"
According to Honcharenko, two educational institutions and eight apartment buildings and garages were damaged, but no victims were reported.
Meanwhile, Russia's Defense Ministry said Ukraine had returned 50 Russian servicemen after a prisoner swap on Sunday. The mutual exchange was the result of negotiations.
The Ukrainian Ministry of Defense confirmed the exchange, with the head of the Ukrainian Presidential Administration sharing footage of Ukrainian soldiers singing their national anthem and waving their country's flag on their bus ride home.