Ministry of Ecology becomes the latest French target for climate activists
Comments
By Euronews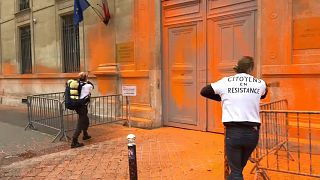 The French Ministry of Ecology was the target of the latest paint attack by the environmentalist organisation "Dernière Renovation" or "Last Renovation."
A numer of activists spray-painted the facade orange to denounce the French government's perceived inaction on climate change.
Members of the organisation staged a similar act on Thursday at the Ministry of Economy and on Wednesday at the Matignon Palace, the official residence of the prime minister.
Our correspondent Hans von der Brelie, who witnessed this latest attack, said climate activists across Europe are radicalising.
They are angry at politicians who they see as too slow in their response to the climate crisis.
The group "Dernière Renovation" in France has announced further actions like this one.
One of their key demands is thermal insulation of the entire building stock in France by 2040, required by law and financed by the taxpayer. 
The organisation is just one of an international network of climate activists, planning and acting on their own, but sharing the same claims and objectives, trying to influence governments and decision makers.
Similar groups include the "Just Stop Oil" in the UK, Letzte Generation in Germany, Ultima Generatione in Italy and an few more in Scandinavia and further afield.
Watch the video in the player above.