Ukraine war: Donetsk 'epicentre' of fighting, Kherson latest, 'genuine' peace talks debated
Comments
By Euronews with AP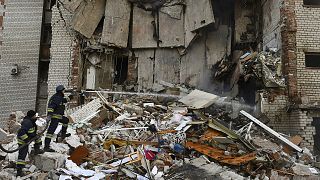 Copyright

AP Photo/Andriy Andriyenko

-
1. Donetsk still the 'epicentre' of fighting in Ukraine war, Kyiv says
Ukrainian President Volodymyr Zelenskyy said on Monday that the Donetsk region in the east remained the "epicentre" of fighting in the conflict, with hundreds of Russians being killed every day.
"The Donetsk region remains the epicentre of the greatest madness of the occupiers," Zelenskyy said in his nightly video address. 
"They are being killed in their hundreds every day. The ground in front of Ukrainian positions is littered with bodies of the occupiers."
The towns of Bakhmut and Avdiivka are the focal points of the heaviest fighting in the region, which has been partially occupied by Moscow-supported separatists for eight years. 
Earlier in the war, the eastern Donbas regions -- Donetsk and Luhansk -- were one-sidedly annexed by Russia together with the southern regions of Kherson and Zaporizhzhia after Kremlin-installed authorities conducted sham referendums on their independence from Ukraine.
2. Russia is preparing for close-quarters combat in Kherson
Kyiv officials claim it is part of preparations for close-quarters combat in what both sides predict will be one of the war's most important battles in the southern city of Kherson.
Ukraine has accused Russia of looting empty homes in Kherson and occupying them with troops in civilian clothing. 
In recent days, Russia has ordered civilians out of Kherson, a city it has occupied since the early stages of the war. Kyiv has accused Moscow of forced deportations.
Meanwhile, accounts of life under Russian occupation by those who have managed to flee are beginning to emerge. Some speak of having to hide their phones from troops and the impossibility of contacting the outside world.
"The Russians went from house to house with weapons and said 'let me see your phone'," one refugee from the village of Kachkirivka said.
"Then they put it in a bucket and took it to their car."
Russia has imposed martial law and curtailed communications across the four Ukrainian regions that it illegally annexed in September. 
3. Pyongyang denies sending ammunition to Moscow
North Korea has denied American claims that it's shipping artillery shells and ammunition to Russia for use in its war against Ukraine and on Tuesday accused the United States of lying.
The denial follows dozens of weapons tests by North Korea, including short-range missiles that are likely nuclear-capable and an intercontinental ballistic missile that could target the US mainland. 
Pyongyang said it was testing the missiles and artillery so it could "mercilessly" strike key South Korean and US targets if it chose to.
North Korea has been cosying up to traditional ally Russia in recent years and even hinted at sending workers to help rebuild Russian-occupied territories in Ukraine. 
Washington has accused North Korea, one of the most weaponised countries in the world, of supplying Soviet-era ammunition, such as artillery shells, to replenish Russian stockpiles that have been depleted in Ukraine.
Last week, Russia sent North Korean leader Kim Jong Un a trainload of 30 thoroughbred horses, opening the border with its neighbour for the first time in two-and-a-half years. 
Kim is an avid horseman, and state media have often pictured him galloping on snowy mountain trails astride a white charger. The horses, Orlov trotters, are prized in Russia.
Spokespeople of Russia's Far Eastern Railway told the state-run news agency on 2 November that the first train headed to North Korea with 30 horses and said the next train was to carry medicine.
4. Kyiv willing to hold 'genuine' peace talks with Moscow that would restore its borders
Ukrainian President Zelenskyy said he was open to talks with Russia, but only "genuine" negotiations that would restore Ukraine's borders, grant it compensation for Russian attacks and punish those responsible for war crimes.
A senior adviser to Zelenskyy said Ukraine had never refused to negotiate with Russia and was ready for talks with its future leader but not with Vladimir Putin. 
The comments by Mykhailo Podolyak followed a Washington Post report saying the Biden administration was privately encouraging Ukraine's leaders to signal an openness to negotiate.
Meanwhile, White House national security adviser Jake Sullivan has been engaged in confidential talks with senior Russian officials aimed at lowering the risk of a broader war over Ukraine, a source familiar with the conversations said.
Washington and Moscow are also discussing holding talks on strategic nuclear weapons for the first time since Moscow sent troops into Ukraine, Russian newspaper Kommersant said on Tuesday, citing four sources familiar with the discussions.
Talks between the two sides on strategic stability have been frozen since Russia began its military campaign in Ukraine on 24 February, even as the New START treaty on nuclear arms reduction stays in effect.
5. 'Putin's chef' admits to US elections meddling
Kremlin-connected entrepreneur Yevgeny Prigozhin admitted Monday that he had interfered in US elections and would continue to do so — confirming for the first time the accusations that he has rejected for years.
"Gentlemen, we have interfered, are interfering and will interfere. Carefully, precisely, surgically and in our own way, as we know how to do," Prigozhin boasted in remarks posted on social media.
The statement from the press service of his catering company that earned him the nickname "Putin's chef" came on the eve of the US midterm elections.
Until now, Prigozhin had denied Russian involvement in election interference.
It was the second major admission in recent months by the 61-year-old businessman, who has ties to Russian President Vladimir Putin. 
Prigozhin has previously sought to keep his activities under the radar and now appears increasingly interested in gaining political clout — although his goal in doing so was not immediately clear.
White House press secretary Karine Jean-Pierre said Monday that Prigozhin's comments "do not tell us anything new or surprising".
"It's well known and well documented in the public domain that entities associated with Yevgeny Prigozhin have sought to influence elections around the world, including the United States," Jean-Pierre said. 
The US has worked to expose and counter Russia's malign influence efforts as we discover them," she said, noting that Yevgeny has been sanctioned by the European Union, the UK and the US.
"Part of Russia's efforts includes promoting narratives aimed at undermining democracy and sowing division and discord. It's not surprising that Russia would be highlighting their attempted efforts and fabricating a story about their successes on the eve of an election," she added.
In September, Prigozhin also publicly stated that he was behind the Wagner Group mercenary force — something he also had previously denied — and talked openly about its involvement in Russia's 8-month-old war in Ukraine. 
The military contractor also has sent its forces to places like Syria and sub-Saharan Africa.
Video also has emerged recently of a man resembling Prigozhin visiting Russian penal colonies to recruit prisoners to fight in Ukraine.