Ukraine war: Klitschko's winter warning; Russia plane loss claim; and new air defence systems
Comments
By Euronews with AP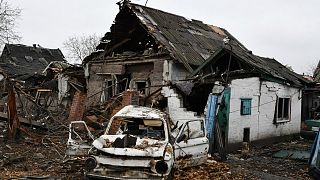 -
Copyright

AP Photo/Andriy Andriyenko
1. Power partially restored in Kherson
Russian-appointed authorities say have partially restored power in the occupied Ukrainian city of Kherson.
The city was cut off from power and water supplies on Sunday following damage to three power lines.
Moscow has accused Kyiv of carrying out a "terrorist attack" on energy infrastructure in the region, which Russia illegally annexed in September.
Ukrainian officials have not responded to the allegations.
Russia has repeatedly called for civilians to "evacuate" from Kherson to Russian-controlled territory on the eastern bank of the Dnieper River in anticipation of a major Ukrainian counteroffensive.
Kyiv says the movements of people out of Kherson are "deportations".
Residents of the city of Kherson received warning messages on their phones urging them to evacuate as soon as possible, Ukraine's military said on Sunday.
Kherson was captured by Moscow during the early days of the invasion. The Kremlin-installed administration has already moved tens of thousands of civilians out of the city.
Russia has been "occupying and evacuating" Kherson simultaneously, trying to convince Ukrainians that they're leaving when in fact they're digging in, Nataliya Humenyuk, a spokeswoman for Ukraine's Southern Forces, told state television.
"There are defence units that have dug in there quite powerfully, a certain amount of equipment has been left, firing positions have been set up," she said.
Russian forces are also fighting fiercely in the eastern region of Donetsk, another province where Russia has declared martial law after its illegal annexation.
Missile strikes have almost completely destroyed the power plants that serve the city of Bakhmut and the nearby town of Soledar, said Pavlo Kyrylenko, the region's Ukrainian governor, said.
2. Ukraine receives new air defence systems
Ukraine has announced that it received new air defence systems from the United States, Spain and Norway to counter Russia's massive bombing of critical infrastructure.
"NASAMS and Aspide air defence systems have arrived in Ukraine! These weapons will greatly strengthen the Ukrainian army and make our skies safer," Ukrainian Defence Minister Oleksii Reznikov said on Twitter.
"We will continue to shoot down the enemies who attack us. Thanks to our partners: Norway, Spain and the US," he added.
Ukraine has for weeks been demanding deliveries of modern air defence systems from its Western allies, while Moscow has stepped up strikes on electricity and water infrastructure, causing massive power cuts as winter approaches.
Other countries such as Germany and France have already supplied anti-aircraft systems to Kyiv.
London think tank, the Royal United Services Institute, said in a report published on Monday that Ukraine requires modern Western equipment and ammunition to defend itself from Russia's missile and drone attacks.
"The West must avoid complacency about the need to urgently bolster Ukrainian air-defence capacity," RUSI said.
3. Russia could have lost twice as many military planes in Ukraine conflict as in Afghanistan
Russia could have lost double the number of military planes so far in Ukraine than when the Soviet Union lost in the Afghanistan conflict. 
In its latest military intelligence assessment, Britain's Ministry of Defence cited the Ukrainian Commander-in-Chief Valeriy Zaluzhnyi, noting that in Afghanistan some 119 Soviet aircraft were lost. Meanwhile, 278 Russian planes have been lost in the Ukraine war. 
"While we cannot independently verify these figures, Russia's continued lack of air superiority is likely exacerbated by poor training, loss of experienced crews and heightened risks of conducting close air suppose in dense air defence zones," the MoD wrote.   
The MoD noted that Russia's losses likely significantly outstrip its capacity to manufacture new ones. 
"The time required for the training of competent pilots further reduces Russia's ability to regenerate combat air capability," said the ministry. 
4. Kyiv mayor warns city residents they may face winter without heating, water or electricity
The mayor of Kyiv, Vitali Klitschko, has warned residents they must prepare for the worst this winter if Russia keeps striking the country's energy infrastructure -- and that means possibly having no electricity, water, or heat in the freezing cold winter months.
"We are doing everything to avoid this. But let's be frank, our enemies are doing everything for the city to be without heat, without electricity, without water supply, in general, so we all die," Klitschko told Ukrainian state media.
"The future of the country and the future of each of us depends on how prepared we are for different situations," he added.
Meanwhile, President Volodymyr Zelenskyy said late ON Sunday that about 4.5 million people were without electricity.
He called on Ukrainians to endure the hardships, saying "we must get through this winter and be even stronger in the spring than now."
Russia has focused on striking Ukraine's energy infrastructure over the last month, causing power shortages and rolling outages across the country. Kyiv was having hourly rotating blackouts on Sunday in parts of the city and the surrounding region.
Rolling blackouts also were planned on Monday in the Chernihiv, Cherkasy, Sumy, Kharkiv, Poltava, and Zhytomyr regions, according to Ukraine's state-owned energy operator, Ukrenergo.
Kyiv plans to deploy about 1,000 heating points, but it's unclear if that would be enough for a city of three million people.
An estimated 40% of Ukraine's energy infrastructure has been damaged since 10 October.
5. Ukraine government to take control of businesses
On Monday the government announced plans to take control of several Ukrainian businesses of "strategic importance" to help the war effort.
The country's largest oil company, Ukrnafta, and aircraft manufacturer Motor Sich are among those on the list.
The decision was announced by the secretary of Ukraine's Security Council, Oleksiï Danilov, at a press conference.
"The decision was taken to expropriate the assets of strategically important companies to bring them into state ownership," he said.