UK: Man attacks Dover migrant processing centre before killing himself — witness
Comments
By Euronews with AP, Reuters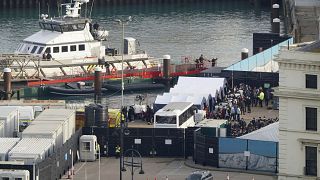 Copyright

Gareth Fuller/PA via AP

-
A man threw petrol bombs attached with fireworks at a centre for processing migrants in the southern English port town of Dover on Sunday and then killed himself, officials said.
Kent Police force said "two to three incendiary devices" were thrown at the facility from a white vehicle at around 11:20 local time (12:20 CEST).
Two other people were lightly injured in the attack and more than 700 migrants had to be relocated. Anti-terrorist police are now conducting the investigation.
Police say the man then drove to a nearby petrol station, tied an improvised noose around his neck, attached it to a metal pole and drove off, killing himself, a Reuters photographer said.
"Officers established that two to three incendiary devices had been thrown into a Home Office immigration premises," Kent Police said in a statement.
"The suspect was identified, and very quickly located at a nearby petrol station, and confirmed deceased ... a further device was found and confirmed safe within the suspect's vehicle," police added.
Local MP Natalie Elphicke said, "all the people who are at the centre are being looked after and precautions are being made for their safety."
The attack comes in the midst of a highly charged political debate about immigration in Britain.
The number of people attempting the dangerous crossing over the Channel to enter Britain has risen sharply. The government is facing criticism from some quarters that border controls are too weak, while charities and human rights groups say asylum seekers are being treated inhumanely.