Ukraine war: Crimea bridge blast arrests, deadly market attack, Putin says 'ball in EU court' on gas
Comments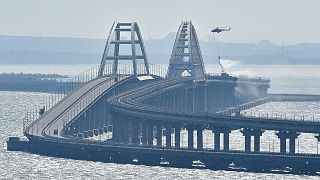 1. Russians among eight arrested over Crimea bridge blast
Russia's security services (FSB) said on Wednesday that they had arrested eight people suspected of involvement in the organisation of Saturday's bomb attack on the bridge linking Crimea to Russia.
In a statement, the FSB said five Russians and "three Ukrainian and Armenian citizens" had been arrested.
"The explosive device was concealed in 22 pallets of plastic film rolls weighing a total of 22,770 kilos," the FSB said.
The security agency says the explosives were sent in early August by ship from the port of Odesa in Ukraine to the port of Ruse in Bulgaria. They then passed through the port of Poti in Georgia and were shipped to Armenia before arriving by road in Russia.
The Russian services claim that the explosive device entered Russia on 4 October in a truck registered in Georgia before reaching the Russian region of Krasnodar, which borders Crimea, on 6 October, two days before the explosion.
The FSB claims that this "terrorist attack" was organised by Ukrainian military intelligence, saying that an agent in Kyiv had coordinated the transit of the explosives and had been in contact with the various intermediaries.
Other experts have speculated that the explosion came from below the bridge and was not caused by a truck bomb on the bridge itself. 
In response to the attack on the bridge, Russia carried out massive bombing raids across Ukraine on Monday and Tuesday.
A Ukrainian official dismissed as "nonsense" on Wednesday Russia's investigation into the bridge explosion. Military intelligence spokesman Andriy Yusov described the FSB and the Russian investigative committee as "fake structures that serve the Putin regime".
2. 'Seven dead' in Russian attack on market in eastern Ukraine
Ukrainian authorities say a Russian attack on a market in the eastern Donetsk region has killed seven people and wounded eight.
The region's governor and the deputy head of the Ukraine president's office said the attack happened early on Wednesday morning in Avdiivka.
"The Russian military needs more blood, more death and more destruction," presidential office deputy head Kyrylo Tymoshenko said on Telegram. "This is a hunt for the lives of peaceful citizens."
"The Russians struck the central market where many people were at that time," Donetsk regional governor Pavlo Kyrylenko said, adding that there was "no military logic" for such an attack.
Both statements were accompanied by pictures of dead bodies and damaged market stalls.
Ukraine's presidential office says Russian shelling in the past 24 hours has affected eight regions in the southeast, while strikes against central and western areas have eased for the moment.
Russian forces used drones, heavy artillery and missiles, according to the presidential office's Wednesday morning update.
Three people have been rescued alive from the rubble in Zaporizhzhia after over a dozen missiles rained on the city, the report said. 
A six-year-old girl and two more people were wounded in the shelling of Nikopol, where the attacks damaged some three dozen residential buildings, private houses, kindergartens, a school, two plants and several shops, the report added.
Ukrainian forces say they shot down nine Iranian Shahed-136 drones and destroyed eight Kalibr cruise missiles near Mykolaiv, leaving the southern city without power.
Ukraine government's energy minister said Russian attacks over the previous two days had damaged about one-third of the country's energy infrastructure.
The country's state nuclear operator said Russian missiles around the Zaporizhzhia power plant caused an external power outage for the second time in five days, forcing it to switch to diesel generators. The UN nuclear watchdog chief said later that external power had been restored.
3. 'Ball in EU's court' over Russian gas supplies, says Putin
Vladimir Putin has said Europe is to blame for its energy crisis with policies that starved the oil and gas industry of investment, adding that price caps will make it worse.
The Russian leader added that the ball was in the EU's court over gas supplies from Russia. It came as EU energy ministers were meeting in Prague to try to agree on new measures to tackle the crisis.
Most EU countries say they want a gas price cap but disagree on its design. Some countries, including Germany, Europe's biggest gas market, remain opposed, arguing it risks choking off supplies.
Russia's war against Ukraine has driven European buyers to move towards weaning themselves off Russian oil and gas and look for alternative suppliers.
But Putin said damaged gas pipelines could be repaired, and Russian gas could still be supplied to Europe. "Russia is ready to start such deliveries. The ball, as they say, is in the court of the European Union," he said.
Putin said gas could still be supplied by one intact part of the Nord Stream 2 pipeline, cancelled by Germany after the Russian invasion.
A German government spokesman replied that Berlin would not take Russian gas via the Nord Stream 2 pipeline — adding, however, that if Russia wanted to resume gas deliveries, it could do so via Nord Stream 1.
An investigation is underway into explosions last month that ruptured the Russian-built pipelines on the bed of the Baltic Sea. Europe suspects an act of sabotage that Moscow quickly sought to pin on the West.
Worries about the security of energy supplies were heightened on Wednesday when a leak in Poland on the Druzhba pipeline from Russia reduced the flow of oil to Germany.
Putin also mooted the idea of a major gas hub in Turkey, which could take redirected supplies from the Nord Stream pipelines. Turkey's energy minister said the issue should be discussed.
4. NATO's 'top priority is more air defence for Ukraine'
NATO defence ministers meeting in Brussels are focusing on boosting support for Ukraine and replenishing depleted military stockpiles.
NATO Secretary General Jens Stoltenberg said support for Ukraine would be "steadfast" and we are prepared for the long haul", stressing that "the top priority will be more air defence for Ukraine".
On Wednesday, G7 leaders promised to back Ukraine for "as long as it takes" after they heard an appeal from Ukraine's Zelenskyy for an "aerial shield" with more defence equipment to protect the country from Russian missile bombardment.
French President Emmanuel Macron confirmed that France would deliver anti-aircraft defence systems to Ukraine, speaking in an interview on France 2 TV channel on Wednesday night.
5. Pope condemns 'relentless' bombing of Ukrainian cities
Pope Francis on Wednesday condemned Russia's "relentless bombings" of Ukrainian cities, saying the attacks had unleashed a "hurricane of violence" on residents.
Speaking to thousands of people at his weekly general audience in St. Peter's Square, he also appealed to "those who have the fate of the war in their hands" to stop.
At least 26 people have been killed across Ukraine during Russia's biggest aerial offensive since the start of its invasion in February.
"My heart is always with the Ukrainian people, especially the residents of the places that have been hit by relentless bombings," Francis said.
"May (God's) spirit transform the hearts of those who have the fate of the war in their hands, so that the hurricane of violence stops and peaceful coexistence in justice can be rebuilt."
In Amsterdam, prosecutors for International Mobile Justice teams are investigating possible war crimes in the ongoing Russian missile strikes on Kyiv and other cities.
Asked on the sidelines of an event in Rome if the attacks could be considered war crimes, the Vatican's number two, Secretary of State Cardinal Pietro Parolin, said he was not qualified to make such a technical, juridical judgment.
"But certainly they are unacceptable acts that cry out vengeance before God and before humanity because bombing unarmed civilians is beyond any logic. It is to be totally condemned," Parolin said.
Pope Francis directly called on Russian President Vladimir Putin for the first time 10 days ago to stop the "spiral of violence and death", saying the crisis was risking uncontrollable global consequences.