In pictures: 10 landmark dates in the life of Queen Elizabeth II
Comments
By Olivier Peguy with AP, AFP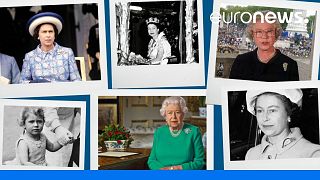 Copyright

AP Photo & AFP via Euronews

-
Queen Elizabeth II, who was Britain's longest-reigning monarch, died at her Balmoral residence on Thursday aged 96. 
Here's a look back at her life through 10 dates and pictures.
1. Princess Elizabeth is born in London - 21 April 1926
Princess Elizabeth was born, the third in the line to the throne. Her father was the future King George VI and her mother, Elizabeth Bowes-Lyon.
2. Princess Elizabeth marries Philip Mountbatten - 20 November 1947
Princess Elizabeth married Philip Mountbatten on 20 November 1947 at Westminster Abbey. The couple had four children -- Charles, Prince of Wales; Anne, Princess Royal; Prince Andrew, Duke of York; and Prince Edward, Earl of Wessex.
3. Princess Elizabeth becomes queen - 2 June 1953
Upon the death of her father King George VI on 6 February 1952, Elizabeth was immediately proclaimed Queen. She was 25 years old.
The coronation ceremony took place on 2 June 1953 at Westminster Abbey. The event was broadcast on television for the first time.
4. Queen Elizabeth II's first speech at the UN - 21 October 1957
Invited to the United Nations podium in New York, Elizabeth II praises the UN's efforts for peace. She returned to the same podium on 6 July 2010.
5. Fire at Windsor Castle - 20 November 1992
Flames ravage Windsor Castle on 20 November 1992. In the preceding months, several royal couples separated. The Queen described it as a "horrible year" ("Annus horribilis").
6. Death of Princess Diana - 31 August 1997
Prince Charles' ex-wife Diana, Princess of Wales, died in a car accident in Paris. The Queen did not speak until the day before Diana's funeral.
7. Queen Elizabeth II in a James Bond film - 29 July 2012
Queen Elizabeth II causes a stir by appearing alongside the famous James Bond character -- played at the time by British actor Daniel Craig. The film was shown at the opening ceremony of the London Olympics.
8. Queen Elizabeth's COVID-19 address - 5 April 2020
Confined due to the Covid-19 health crisis, the Queen delivers a speech to her countrymen on 5 April 2020. "We shall prevail," she says in this solemn address.
9. Death of Queen Elizabeth II's husband, Prince Philip - 9 April 2021
Prince Philip, aged 99, dies at Windsor Castle.
10. Queen Elizabeth II celebrates 70 years on the throne - 5 February 2022
Queen Elizabeth II celebrates 70 years on the throne. At the time, she was the oldest and longest-serving head of state in the world.