Queen Elizabeth II: Royal Family gather by monarch's side as doctors keep her under supervision
Comments
By Euronews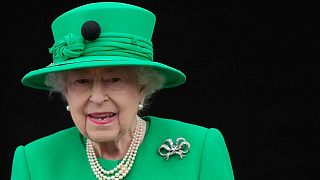 -
The royal family gathered at Balmoral after doctors recommended Queen Elizabeth II remain under medical supervision at Balmoral. 
Buckingham Palace later announced that the Queen had died peacefully. Please click here for our new article with all the latest developments.
It came a day after a meeting of the Privy Council of senior royal advisers was postponed, and the 96-year-old monarch was told to rest.
Follow our updates prior to her death below.
09.08.2022
14:27
In summary
Doctors concerned for Queen Elizabeth II's health, Buckingham Palace said in a statement.
The Queen, 96, remains "comfortable at Balmoral", her residence in Scotland, where she is under medical supervision.
All four of the Queen's children are reported to have arrived at Balmoral to be with her. Prince Charles is accompanied by his wife Camilla, and has been joined by Princess Anne, Prince Andrew and Prince Edward.
Prince William and his brother Harry, two of the Queen's grandchildren, were also said to be travelling to Balmoral.
New UK Prime Minister Liz Truss said "the whole country will be deeply concerned".
The Queen, who this year celebrated 70 years on the throne, has suffered from "episodic mobility problems" since the end of last year.
Doctors advised her to rest on Tuesday following a full day of events, when she received separately both Truss and her predecessor Boris Johnson for the formal handover of power.
09.08.2022
19:24
Royals arrive at Balmoral Castle
A fleet of cars carrying Prince William, Prince Andrew, Prince Edward and his wife Sophie, the Countess of Wessex, have arrived at Balmoral Castle, where Queen Elizabeth II is under medical supervision.
The plane carrying the royal party arrived at Aberdeen Airport just before 4 pm Thursday, local time, and arrived at the Queen's estate about an hour later. Prince Charles, the heir to the throne, along with his wife, Camilla, and sister, Princess Anne, who were already in Scotland, arrived at Balmoral Castle earlier Thursday.
Prince Harry, who was due to appear at a charity awards ceremony in London later Thursday, cancelled that appearance and was making his way to Scotland separately.
09.08.2022
19:19
Queen Elizabeth 'a legend in my eyes', says von der Leyen
European Commission President Ursula von der Leyen has joined those sending well-wishing messages concerning the Queen's health, telling reporters during a trip to the Netherlands:
"My thoughts and my prayers are with her. And she represents the whole history of the Europe that is our common home, with our British friends. She has given to all of us in all these years – always – stability, confidence.
"She has shown an immense amount of courage. She is a legend in my eyes. And therefore my prayers are with her."
09.08.2022
18:57
US president sends his thoughts to the Queen and her family
US President Joe Biden told British Prime Minister Liz Truss Thursday that he and his wife Jill are thinking of Queen Elizabeth amid deep concerns over her health, the White House said.
Biden is receiving regular updates on the Queen's situation and raised the issue in a conference call on Ukraine with allied leaders, White House national security spokesman John Kirby said during a press conference.
"His and the first lady's thoughts are solidly and squarely with the queen today, and her family," said Kirby.
"The president has been briefed this morning and will be updated throughout the day concerning news out of the United Kingdom." (AP)
09.08.2022
18:06
A crowd of well-wishers gathers at Buckingham Palace
A crowd of well-wishers has gathered outside Buckingham Palace in London on Thursday after Queen Elizabeth II's doctors expressed concern about the monarch's health.
Dozens of Britons and tourists gathered in the rain to share their concerns and emotions outside the London palace. The 96-year-old monarch is currently in Balmoral, Scotland. (AFP)
09.08.2022
17:22
Leaders past and present send messages of concern
The leaders of Britain's devolved governments have sent well-wishing messages in response to news of the Queen's health.
"All of us are feeling profoundly concerned at reports of Her Majesty's health. My thoughts and wishes are with the Queen and all of the Royal Family at this time," tweeted Scotland's First Minister Nicola Sturgeon.
"Concerned to hear the news from Buckingham Palace. I send my best wishes to Her Majesty and her family on behalf of the people of Wales," said the First Minister of Wales, Mark Drakeford.
There was a similar message from Northern Ireland's Democratic Unionist Party, DUP leader Jeffrey Donaldson tweeting that he and his party's "thoughts and prayers" were with the Royal Family.
Ed Davey, leader of the opposition Liberal Democrats, said via Twitter that "the whole nation's thoughts and prayers" were with the Queen and her family and we all hope and pray for her full recovery".
Former Prime Minister David Cameron sent via Twitter his "heartfelt thoughts and prayers to Her Majesty The Queen and the Royal Family at this worrying time".
And Tony Blair, Labour Prime Minister from 1997-2007 said his "thoughts and prayers" were with the Queen and her family.
From the Commonwealth, Canadian Prime Minister Justin Trudeau tweeted this message:
09.08.2022
16:55
Religious organisations send messages of solidarity
Among many to send messages of concern over the Queen's health are the Archbishop of Canterbury and the Anglican Communion representing churches worldwide. 
"May God's presence strengthen and comfort Her Majesty, her family, and those who are caring for her at Balmoral," tweeted the Archbishop of Canterbury, Justin Welby.
Others to send messages include the Catholic Church, the UK's Chief Rabbi, and the Muslim Council of Britain.
09.08.2022
16:42
Historian comments on unusual royal statement
Author and historian Matthew Dennison says doctors may not be sure how the Queen's health will evolve — adding that Buckingham Palace will have felt the need to communicate, given the seriousness of the situation.
"I think the key bit of the announcement is the concern of the doctors. I don't think such a statement would have been released and given the inevitable disquiet that it will cause across the nation and indeed across the Commonwealth if there isn't real reason for that concern on the Queen's doctors' part," he told Sky News.
"It's very difficult for the royal family because their lives are profoundly public. And for most of us, we can treat our health as something private. And of course, the royal family would wish for their health mostly to be private. But in this case, you know, we are talking about the health of the sovereign, who is still a part of the executive branch of government, but also who is a more than deeply loved figure, somebody who actually inspires reverence both at home and abroad.
"And so I think that the royal family finds itself in this difficult position that they do need to release some information. And yet, of course, as part of preserving the dignity of the crown and also the Queen's own human dignity is that we are not served up unnecessary details."
09.08.2022
16:11
Family rush to be by Queen's side
Prince Charles — Prince of Wales and the heir to the throne — along with his wife, Camilla, are already with the Queen at Balmoral Castle, her summer residence in Scotland.
So is Princess Anne, the Princess Royal, the Queen's second child. Her other children — Prince Andrew (the Duke of York) and Prince Edward (the Earl of Wessex) along with his wife Sophie — were also on their way to the castle.
Prince William — the Duke of Cambridge, Charles' eldest son and the Queen's grandson — was also en route to Balmoral. The Duchess of Cambridge is said to have remained at Windsor with the couple's children.
A spokesperson said William's brother Prince Harry and his wife Meghan, in Britain for a number of events, would also travel to Scotland — although Sky News has since reported that Harry is travelling alone without his wife. 
The couple, who live in the United States, had been due to attend a charity event in London on Thursday night.