Fierce street-by-street combat continues in Sievierodonetsk
Comments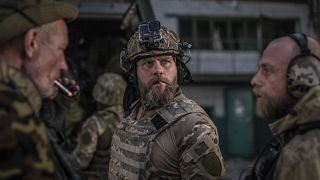 -
Copyright

Oleksandr Ratushniak/Copyright 2022 The Associated Press. All rights reserved.
Follow our live updates of the Ukraine war below or watch Euronews TV's live coverage in the player above. 
06.09.2022
06:55
Thursday's key points
Shelling continues in Sievierodonetsk but Ukrainian troops hold their position despite Russian shelling.
Two British men and a Moroccan national captured while fighting in the Ukrainian army have been sentenced to death by Pro-Russian officials.
Zelenskyy described the battle for Sievierodonetsk as the most difficult Ukraine has seen so far. He said its outcome would decide the fate of the Donbas region. 
Russian bombardment pushed Ukrainian troops back from Sievierodonetsk, says the Luhansk regional governor. 
Zelenskyy told US business leaders that 'the world is supposed to' weaken Russia. 
Russian FM said Moscow was willing to open corridors to allow grain exports from Ukraine, but said the country must first de-mine the Black Sea. 
Poland's PM criticised European leaders' calls with Putin, likening the Russia leader to Adolf Hitler. 
Ukraine has appealed for long-range western weapons, saying it could 'clean up' Sievierodonetsk in days with them. 
Ukrainian forces claim to have recaptured territory near Kherson controlled by Russia. This could not be independently verified. 
An agreement on exporting Ukrainian grain is yet to be reached between Ukraine and Russia. Both sides are blaming one another. 
UN head warned that Russia's invasion of Ukraine is 'threatening to unleash an unprecedented wave of huger and destitution'. 
06.09.2022
20:44
Ukraine condemns 'show trial' of foreigners
A Ukrainian foreign ministry spokesman says the death sentences handed by a pro-Russian separatist court to British and Moroccan nationals fighting for Ukraine should be considered null and void.
"The so-called 'trial' of the military personnel of the Armed Forces of Ukraine in the occupied Ukrainian territories is of no significance," Oleh Nikolenko told the Interfax Ukraine agency.
"Such show trials put the interests of propaganda above the law and morality; they undermine the mechanisms for the return of prisoners of war. The Ukrainian government will continue to make every effort to release all the defenders of Ukraine," Nikolenko added.
He stressed that all foreign citizens fighting as part of Ukraine's armed forces should be considered Ukrainian military personnel, and protected as prisoners of war.
Meanwhile, Amnesty International has said the trial is "a blatant violation of international humanitarian law on so many counts."
Denis Krivosheev, Amnesty International's Deputy Director for Eastern Europe and Central Asia, said:
"The three were members of the Ukrainian regular forces and under the Geneva Conventions, as prisoners of war, they are protected from prosecution for taking part in hostilities. The only exception is prosecution for alleged war crimes, in which case there must be sufficient admissible evidence, and fair trial standards must be ensured. Not only this is not the case in this scenario – they were not tried by an independent, impartial regularly constituted court but by Russian proxies. The so-called 'charges' against them would not constitute war crimes. And most outrageously of all, the taking of their lives as result of the grossly unfair proceedings would constitute arbitrary deprivation of life.
"In fact, wilfully depriving a prisoner of war or other protected person of the right to a fair and regular trial constitutes a war crime. Russia, as the occupying power, bears responsibility for the treatment of all prisoners of war and others deprived of their liberty. They must ensure this so-called 'sentence' is immediately quashed, and that these mean are treated in full compliance with international humanitarian law."
(AP / Amnesty International)
06.09.2022
20:01
Fighting continues in Sievierodonetsk, governor says
Luhansk's Governor, Serhiy Haidai says fighting is continuing in the key eastern Ukrainian city of Sievierodonetsk.
Russian forces are pounding the city in fierce, street-by-street combat, but Haidai says Ukrainian troops are holding their positions in some parts of the city.
However, some may have to retreat from these positions if the intensity of Russian shelling continues.
"If the number and density of artillery shelling are as substantial as it is now, the time will come, and the positions will simply be entirely destroyed," he said.
"There will be no place for the soldiers to hide."
Haidai added that Russian forces continue to shell the neighboring city of Lysychansk using large-caliber weapons which "pierce even concrete."
"It is extremely dangerous for civilians to remain, even in shelters," Haidai said. 
Meanwhile, the Ukrainian army says they are continuing to frustrate Russian attempts to take Sievierodonetsk.
"The occupiers, with the help of motorized rifle units and artillery, conducted assault operations in the city of Sievierodonetsk. They were not successful; the fighting continues," the General Staff of the Armed Forces of Ukraine said.
It added that Ukrainian forces had successfully repelled a Russian attack on the village of Toshkivka, on the northwestern outskirts of Sievierodonetsk.
(AP)
06.09.2022
19:55
Putin likens himself to Peter the Great
Vladimir Putin compared himself to Peter the Great during a speech where he said Russia needed to "take back (territory) and defend itself".
The Russian President was meeting with young entrepreneurs in Moscow.
Putin drew parallels between the conquering monarch's founding of St. Petersburg and his government's annexation of territory.
"When he founded the new capital, no European country recognised it as Russia. Everybody recognized it as Sweden," Putin said. "And Slavic people had always lived there along with Finno-Ugric people, and the territory was under the control of the Russian state."
"What was he doing? Taking back and reinforcing. That's what he did. And it looks like it fell on us to take back and reinforce as well," he said.
Putin also appeared to leave the door open for further territorial expansion, while asserting Russia's sovereignty.
"There is no state in between. A country is either sovereign or a colony," he said.
"It's impossible — do you understand — impossible to build a fence around a country like Russia. And we do not intend to build that fence," Putin added.
(AP)
06.09.2022
18:33
Ukraine disposes of shells and mines from Kyiv farms
Ukrainian military has been blowing up and removing shells and mines removed from farm fields in the Kyiv vicinity.
Brigadier general Valeryi Yembakov who supervised the disposal accused Russia of deliberately mining roads, bridges and farms.
"I have a well-founded suspicion that Russians deliberately mined not only roads and not only bridges but also our fertile lands. Evidence of this is in the field, mined before they escaped from here," he said.
Yembakov reported that a tractor had exploded after hitting a mine in a field last week, but no one was hurt.
There are fears that up to 30 per cent of Ukraine's farmland could be affected by mines.
06.09.2022
17:59
Ukraine is fighting for 'every house and every street' in Severodonetsk, Ukrainian commander says
The battle for Sievierodonetsk is being waged house to house, says a Ukrainian commander.
Petro Kuzyk, commander of the Svoboda (Freedom) National Guard battalion, said Ukrainian fighters hope for the delivery of heavy weapons that might "turn the tide,"
He added that street fighting in the small industrial city in eastern Ukraine was at times raging under heavy Russian artillery barrages that endangered troops on both sides.
"We fight for every house and every street," Kuzyk told national television, describing fighting in which Ukrainian fighters had gone from "blind defence to small counter-offensives in some areas.
(Reuters)
06.09.2022
17:50
UK government 'deeply concerned' about 'sham' death sentences handed to Britons
The British government says it is "deeply concerned" by the death sentences handed out to Britons Aiden Aslin and Shaun Pinner, who were captured while fighting for Ukraine.
British Foreign Secretary Luz Truss condemned the sentencing as a "sham judgment with absolutely no legitimacy."
Prime Minister Boris Johnson's spokesman Jamie Davies said that under the Geneva Conventions, POWs are entitled to immunity as combatants.
(AP)
06.09.2022
16:26
Britons and a Moroccan captured fighting in Ukraine army sentenced to death  - Russian news agency
Two British men and a Moroccan national have been sentenced to death after they were captured by Russian forces fighting for the Ukrainian army, Russian state media is reporting.
"The Supreme Court of the Donetsk People's Republic sentenced Britons Aiden Aslin and Shaun Pinner and Moroccan Brahim Saadoun to death, accused of taking part in the fighting as mercenaries," the official Russian news agency TASSsaid.
Russian-owned news agency RIA Novosti said the men pleaded "guilty" to acts aimed at seizing power by force. 
06.09.2022
16:08
Pushing Ukraine into 'bad' compromise with Russia would be 'repugnant', warns UK PM Johnson
British Prime Minister Boris Johnson has warned against any attempt on the part of the West to encourage Ukraine to accept a "bad" compromise with Russia, judging that it would be "morally repugnant".
"To encourage a bad peace in Ukraine is to encourage Putin and to encourage everyone in the world who thinks that aggression pays," said the leader in a speech in Blackpool, in the northwest of England.
"That would be a mistake and would open the door to more conflict, more instability, more uncertainty in the world and therefore more economic hardship," he added.
He said he "knows that some, not in this country but elsewhere, feel that the price of supporting the Ukrainians is now too high and that they should be encouraged to accept what Putin is asking for."
"Abandoning the Ukrainians would be morally repugnant," he continued.
Vladimir Putin "is never going to succeed in subjugating Ukraine and the sooner he understands that the better, and he must not be allowed to achieve partial success by swallowing up part of the country as he has done before and declare a ceasefire," he insisted.
(AFP)
06.09.2022
15:13
Premier League suspends its new broadcasting contract in Russia
The Premier League has suspended its €50 million contract with Russian broadcaster Match TV over the country's invasion of Ukraine.
A deal with Russian media group Rambler, which had held the broadcasting rights for the English championship until the end of the 2021-22 season, was suspended in March and replaced by the Match TV contract.
The deal with Match TV, which is owned by energy giant Gazprom, was for the 2022 to 2028 seasons. 
(AFP)
,