Ukraine: Russia accuses US of 'pouring fuel on the fire' with missile shipment
Comments
By Euronews with AP, AFP, Reuters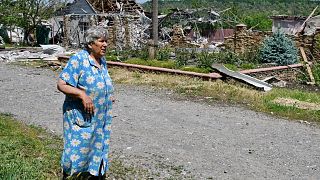 -
Copyright

AP Photo/Andriy Andriyenko
The Biden administration is getting ready to send Ukraine a small number of high-tech, medium-range rocket systems, a critical weapon that Ukrainian leaders have been pleading for as they struggle to stall Russian progress. The rocket systems are part of a new $700 million tranche of security assistance for Ukraine from the US that will include helicopters, Javelin anti-tank weapon systems and tactical vehicles. 
Meanwhile, Russian forces have now seized half of Sievierodonetsk, a key city in eastern Ukraine, as heavy fighting between Russians and Ukrainians continues.
Follow Wednesday's developments in Ukraine as they unfolded in our blog below:
06.01.2022
06:52
A Kremlin spokesperson says US plans to send more missile systems to Ukraine are ""deliberately and diligently pouring fuel into the fire." 
Russia claims to have completed testing of a hypersonic cruise missile.
Russian forces now control 70% of the strategic city of Sievierodonetsk, according to the regional governor.
Germany is to send Ukraine anti-aircraft missiles and radar systems, amid criticism that it's not doing enough to help Kyiv.
Russian gas exports plunged 27.6 per cent in 2022, according to Gazprom.
Denmark is holding a referendum today on whether to join the EU common defence policy.
Russia is cutting off natural gas supply to Denmark, adding the country to a list that includes Finland, Poland, Bulgaria and the Netherlands.
Russia has criticised the US over its plans to send advanced arms shipments to Ukraine, including medium-range rocket systems.
Ukrainian counter-offensives in Kherson are critical terrain, says US think tank.
06.01.2022
23:22
That's our Ukraine live blog coming to a close for Wednesday evening. 
We're back again on Thursday morning with all the latest developments.
06.01.2022
23:13
Ukraine beat Scotland to go one step closer to World Cup
Ukraine's emotion-filled quest to qualify for the World Cup amid an ongoing war moved a step closer with a 3-1 win over Scotland in a pulsating playoff semifinal on Wednesday.
Veteran captain Andriy Yarmolenko lifted his nation by scoring a deft lobbed goal in the 33rd minute and then helped set up Roman Yaremchuk's header in the 49th.
Ukraine dominated for much of a deserved win though had to resist a Scotland revival as risk-filled attacks brought a goal in the 79th by Callum McGregor, before Ukraine substitute Artem Dovbyk broke clear to score with the last kick of the game.
Dovbyk led teammates toward the corner of the stadium to share the celebration with 3,000 Ukraine fans in the 51,000 crowd, applauding each other with hands raised high above their heads.
Now Ukraine moves on to face Wales on Sunday with a place at the World Cup at stake.
The winner in Cardiff will go to Qatar in November to play in a group against England, the United States and Iran.
Ukraine put in a slick display despite using six starters who had not played a competitive game of any kind since December.
Most of Ukraine's squad play for home-based clubs whose league was shut down after Russia's invasion, and the playoff in Glasgow was postponed in March. FIFA and Scotland agreed to give the Ukrainian team a fair chance to prepare for games that have become a focus of national identity and pride.
Scotland lacked the class needed and its wait for World Cup soccer now extends beyond the 24 years since it went to the 1998 tournament.
(AP)
06.01.2022
23:09
NATO organising Turkey, Finland, Sweden meeting over membership 
NATO Secretary-General Jens Stoltenberg on Wednesday said he's convening a meeting of senior officials from Finland, Sweden and Turkey to try to overcome Ankara's objections to the two Nordic countries joining the alliance.
Stoltenberg told reporters that the talks will be held in Brussels "in a few days with senior officials," but provided no further details.
"I'm confident that we will find a way forward," he said.
Roused by security concerns over Russia's war on Ukraine, Finland and Sweden applied to join NATO last month. But Turkish President Recep Tayyip Erdogan is blocking their path. He has said they're not doing enough to fight Kurdish extremism.
Asked how long it might take to end the standoff, Stoltenberg said his goal is before the NATO summit.
US President Joe Biden, Erdogan and their NATO counterparts are meeting in Madrid from June 28-30.
"We want to make sure that all allies have their security concerns taken into account, and that includes Turkey," US Secretary of State Antony Blinken said.
(AP)
06.01.2022
19:43
Zelenskyy lauds Polish help with refugees and military support
Ukraine's President Volodymyr Zelenskyy on Wednesday thanked Poland for its military support.
Speaking at a meeting with Polish Prime Minister Mateusz Morawiecki and Deputy Prime Minister Jaroslaw Kaczynski, Zelenskyy hailed what he described as "unprecedented defense support" from Warsaw.
He also voiced gratitude to Poland for hosting Ukrainians who were forced to leave the country during the war, praising its "warm and humane attitude to our people."
"Our relations have progressed through the war of Russia against Ukraine from warm and good-neighborly relations to another stage of strong and historic ties," Zelenskyy said.
(AP)
06.01.2022
19:31
Poland to improve infrastructure to ease Ukraine grain export buildup
Poland's Prime Minister Mateusz Morawiecki said Wednesday his country is improving its transport infrastructure to ease the export of grain and other key products from neighboring Ukraine that has been severely restricted by Russia's invasion.
Morawiecki spoke in the Ukrainian town of Borodyanka, near Kyiv, that was heavily damaged by Russian shelling. He was there to inaugurate container houses, provided by Poland, for people left homeless by the fighting.
Morawiecki said Poland is working on expanding its transport infrastructure and the flow capacity to facilitate the export of millions of tons of Ukrainian grain and other agricultural products to the world. Poland is receiving EU funds for the purpose, Morawiecki said.
He said North African and Middle Eastern countries rely heavily on Ukraine grain and could face problems feeding their populations without it.
Poland is currently a key route for Ukraine exports, but border bottlenecks - among other difficulties - are restricting the flow of goods.
Poland and Ukraine are also discussing Poland's assistance in rebuilding Ukraine after the war, as well as stronger cooperation in defense, security and infrastructure.
The prospective deals will "on one hand help Ukraine, on the other hand will give an economic impulse to Poland," Morawiecki said.
Later Wednesday Morawiecki was joined in Kyiv by Poland's most powerful politician, Deputy Prime Minister Jaroslaw Kaczynski, for talks on Ukraine's recovery with President Volodymyr Zelenskyy and Prime Minister Denys Shmyhal.
(AP)
06.01.2022
18:43
Italy imports more Russian oil despite impending embargo
Even as the European Union decided to reduce Russian crude oil imports by 90% by the end of the year, Italy has become the only country in Europe to increase them, an unintended consequence of EU sanctions against Russia.
Meant to punish Russia for invading Ukraine, the EU oil embargo is now putting at risk one of Italy's largest refineries, located in Sicily, which would deal an economic blow to the depressed region's economy.
Italy agreed with its EU partners to cut Russian crude imports by 2023, a move that Premier Mario Draghi called "a complete success,″ that "just a couple of days ago wouldn't have been believable."
But Rome also has to deal with the fate of the refinery in Sicily owned by Russia's Lukoil. As a result of previous sanctions against Russia, ISAB Srl has paradoxically gone from processing 15% of Russian crude to 100%.
That's because banks have refused to take the risk of extending credit to Russia-controlled ISAB that would allow it to buy oil from non-Russian sources, even if not specifically barred from doing so, said Matteo Villa, an energy analyst at the ISPI think tank in Milan.
Italy in May received about 400,000 barrels of Russian oil a day in May, four times the pre-invasion levels, according to the Kpler commodity data company. Of that total, ISAB received 220,000 barrels a day from Russia.
"Italy is the only country in Europe increasing oil imports," Villa said, going from the sixth-largest importer of Russian oil to the the largest in the three months since the invasion.
The plant employs 3,500 people at three production sites, including a refinery, gasification and electricity cogeneration plant, in Sicily's Syracuse province, and risks closure if a solution isn't found before the embargo kicks in. The plant and related activities generate half of the provincial gross domestic product and 8% of the region's economic activity, processing one-fifth of Italy's crude oil imports.
(AP)
06.01.2022
18:36
Report: China bars Russian airlines using foreign planes
China has barred Russia's airlines from flying foreign-owned jetliners into its airspace, the Russian news outlet RBK reported, after President Vladimir Putin threw the aircrafts' ownership into doubt by allowing them to be re-registered in Russia to avoid seizure under sanctions over Moscow's attack on Ukraine.
The European Union, home to major aircraft leasing companies, banned the sale or lease of aircraft to Russian carriers in February. Putin responded by approving the re-registration measure in March, which prompted suggestions foreign owners may never recover planes worth billions of dollars.
China's air regulator asked all foreign carriers last month to update ownership information and other details, RBK said, citing two unidentified sources. It said Russian airlines that couldn't provide documents showing their aircraft were "de-registered abroad" were barred from Chinese airspace.
(AP)
06.01.2022
17:57
Netherlands increases defence spending 
The Dutch government on Wednesday announced what it is calling the biggest boost in its military spending since the end of the Cold War as war rages in Ukraine.
Defense Minister Kajsa Ollongren said "threats in the world and the war in Ukraine show that peace and security cannot be taken for granted."
Ollongren unveiled 5 billion euros ($5.3 billion) a year in increased military spending.
The extra money will fund military hardware purchases in coming years including six new F-35 fighter jets and a doubling of the military's fleet of MQ-9 Reaper drones from four to eight.
The Defense Ministry said the investment means the Netherlands will meet the NATO agreed defense spending of 2% of its gross domestic product in 2024 and 2025.
It also aims to ease shortages in military supplies and equipment. That will enable military personnel to "work with the best equipment and train a lot without constant shortages of spare parts, transport and ammunition," the ministry said.
(AP)