Ukraine war: Russian planning to annex eastern Ukraine this month, says US
Comments
By Euronews with AP, AFP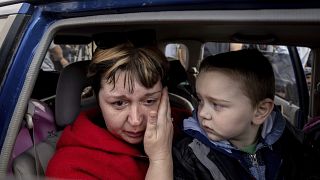 -
Copyright

AP Photo/Evgeniy Maloletka
The US says Russia is planning to annex a large part of Eastern Ukraine this month, hold "sham elections" and recognise Kherson as an independent republic.
Meanwhile a strike on the city of Odesa on Monday evening killed a teenage boy, officials say. 
The first evacuees from a massive steel plant in Mariupol under an operation which began at the weekend had still to reach safety in Zaporizhzhia by Monday night. An estimated 100,000 civilians remain in the port city which has faced constant shelling since early on in the war.
Follow Monday's events as they unfolded on our blog below.
05.02.2022
06:27
Monday's key events:
US officials say Russia is planning to annex large parts of Eastern Ukraine during May, hold "sham referenda" and recognise the city of Kherson as an independent republic. 

EU officials say there are still months of uncertainty ahead, as the bloc's 27 members try to reduce imports of Russian energy. The comments came after EU energy ministers held crisis talks in Brussels, striving for a united response to Moscow's demand that European buyers pay for Russian gas in roubles or face their supply being cut off. 

Israel has strongly criticised Russian Foreign Minister Sergei Lavrov for saying "Hitler also had Jewish origins" as he tried to justify Russia's stated aims to 'denazify' Ukraine, claiming Nazis could still be running the country even if President Zelenskyy is Jewish. 

President Zelenskyy said that a group of about 100 people were evacuated from the Azovstal plant during the day on Sunday. Russia's defence ministry put the number at 80 civilians.

A safe passage operation at the steel plant in Mariupol was due to continue on Monday. The plant is the last Ukrainian stronghold in the besieged southern Ukrainian port city..

Zelenskyy has also accused Moscow of waging a "war of extermination", citing more Russian strikes on civilian targets. 

More than a quarter of all troops Russia deployed for its war in Ukraine are now "combat ineffective", says UK's Ministry of Defence. 

Poland's armed forces said that military exercises involving thousands of NATO soldiers have begun.
05.02.2022
23:30
That's our Ukraine live blog wrapping up for Monday evening. 
We're back on Tuesday morning with all the latest developments. 
05.02.2022
23:27
US says Russia planning to annex eastern Ukraine this month
A senior US official says the United States believed Russia is planning this month to annex large portions of eastern Ukraine and recognize the southern city of Kherson as an independent republic.
Michael Carpenter, the U.S. ambassador to the Organization for Security and Cooperation in Europe, said Monday that the suspected actions are "straight out of the Kremlin's playbook" and will not be recognized by the United States or its partners and allies.
Carpenter said the US and others have information that Russia is planning "sham referenda" in the so-called Donetsk and Luhansk "people's republics" that would attach the entities to Russia. He also said there were signs that Russia would engineer an independence vote in the city of Kherson.
"We believe that the Kremlin may try to hold sham referenda to try to add a veneer of democratic or electoral legitimacy and this is straight out of the Kremlin's playbook," he said, adding that the information suggested the votes could come as early as mid-May. "Such sham referenda, fabricated votes will not be considered legitimate, nor will any attempts to annex additional Ukrainian territory," he said.
Carpenter did not detail the information that led to the assessment, although there have been public reports that Russia is moving to exert greater control over areas that it already controls and occupies in eastern and southern Ukraine. He pointed to evidence that local mayors and legislators there have been abducted, that internet and cell phone service had been severed and that Russian school curricula is soon to be imposed.
(AP)
05.02.2022
22:13
Finnish and Swedish ice hockey players must choose national team glory or Russian contracts
Finnish and Swedish ice hockey players who will play next season in the Russian ice hockey championship (KHL) will not be eligible for selection for their national teams.
The ice hockey federations of the two Nordic countries made the announcement on Monday.
"The position of the Finnish Hockey Federation is that players playing next season in Russia will not be able to play for the national team," reads a statement.
The Swedish Federation indicated for its part that it would adopt a similar decision in a few weeks. "We are going in this direction, said its secretary general, Johan Stark, to the Swedish news agency TT.
"Players who choose to play in the KHL next season will not be eligible for our national team, but the formal decision will be formalized by our board at the end of the current season."
"In the best of all possible worlds, we would have preferred that no Swedes play in the KHL. The decision to stay there is up to the players themselves, but I know that it is not as easy as that to leave like that," Stark he added.
(AFP)
05.02.2022
21:26
Pentagon: Russian Chief of Staff visited Donbas frontline
A senior Pentagon official in the US say Russian Chief of Staff Valery Gerasimov visited the frontline in the Donbas region last week, but was unable to confirm rumours that he was injured.
"What we can confirm is that we know that for several days last week he was in Donbas," the official told reporters on condition of anonymity.
"We don't think he's still there. (We think) he's gone and is back in Russia. We can't confirm reports that he was injured," he said. 
An adviser to Ukraine's interior minister said on Sunday that many Russian officers had been hit in an "explosion" in Izium, eastern Ukraine, adding that Valery Guerassimov was there at the time of the blast.
However another adviser to the minister told Ukrainian television that Guerassimov had not been injured.
"We have confirmation that he was there, in the region of Izioum (...). We have certain confirmations that he was not injured," the second adviser said. 
Valery Guerassimov is said to have inspected the front to better understand the conditions on the ground, as Russian forces, after failing to take Kyiv, are trying to take control of the Donetsk and Lugansk regions.
The Pentagon official also said on Monday that Russian forces were making limited progress in their battle against the Ukrainians in the region, calling their progress "anemic".
US officials said Russian troops have taken control of villages and then lost them to Ukrainian fighters, claiming the Russian military was demoralised and suffered from disorganised command. 
Russian progress on the battlefield is "very uneven... And in some cases, quite frankly, the best word to describe it would be anemic," the official said.
(AFP)
05.02.2022
21:19
Russia missiles strike Odesa
Ukrainian authorities say a Russian missile attack struck the Black Sea port of Odesa on Monday evening.
"A missile strike on Odessa damaged a building in which five people were staying. A 15-year-old boy died," the city council announced on the Telegram platform, but without giving details of the fate of the other three occupants of the building.
An Orthodox church under the Moscow Patriarchate had its roof torn off in the attack, Ukrainian Security Council Secretary Oleksiy Danilov told Ukrainian television. 
Odessa, a Russian-speaking city considered a major cultural center for both Ukrainians and Russians, has been attacked several times in recent weeks.
The airport was targeted by Russian missiles on Saturday, destroying its runway according to Ukrainian authorities. On 23 April an apartment building was hit, killed at least eight people there.
Ukrainians fear that the city is one of Russia's targets, especially since a Russian general claimed that the Kremlin's offensive in Ukraine was aimed at establishing a corridor from Russia to the breakaway Moldovan region of Transdniestria, which would pass through Odessa.
(AP, AFP)
05.02.2022
20:34
CIA urges Russian dissidents to get in touch via darknet
The CIA says Russians disaffected by Vladimir Putin's invasion of Ukraine may be trying to get in touch with US intelligence -- and it wants them to go to the darknet.
On Monday the American spy agency began a new push to promote its presence on a part of the internet accessible only through specialised tools that provide more anonymity. The CIA has a darknet site that has the same features as its regular homepage but accessible only through the Tor internet browser, which has encryption features not available on most regular browsers.
Instructions in English and Russian on how to access the darknet site appeared Monday on the CIA's social media channels. The agency hopes Russians living abroad can share the instructions with contacts inside the country.
While many Russians appear to support what the Kremlin officially calls a "special military operation," longtime Russia watchers think Putin's management of the war may push away some powerful people who disagree with him. Even with immense capabilities to capture communications and satellite imagery, it remains critical for Western intelligence agencies to recruit human sources who can offer insight into the Kremlin and conditions inside Russia.
"Our global mission demands that individuals can contact us securely from anywhere," the agency said in a statement.
(AP)
05.02.2022
19:45
UEFA rules on Russian hosting, participation
Football's European governing body UEFA has decided that Russia won't be able to take part in this summer's EURO 22 tournament -- instead they'll be replaced by Portugal. 
UEFA announced on Monday evening that Russian teams will also be banned from its club competition next season.
In addition, the UEFA Executive Committee has thrown out bids submitted by Russia to host EURO 2028 or 2032. 
Read more: 
05.02.2022
19:40
Unknown fate for civilians still trapped in Mariupol steel mill 
05.02.2022
19:04
Russia hijacks internet in occupied Ukrainian city 
The Kremlin has reportedly taken control of the internet in Kherson, after a temporary outage. 
Network analysts say internet service in Ukraine's Black seaport of Kherson, which was seized by Russia in March, experienced 24 hours without internet. 
Yet, when the service was restored on Sunday, traffic was rerouted through Russia's state-controlled Rostelecom. 
In a statement, the Ukrainian State Service of Special Communication called the outage "another enemy attempt to leave Ukrainians without access to the true information."
It suggested Moscow had falsely claimed Ukraine's government had ordered the shutdown.
On Sunday, Ukrainian officials said internet and cellular communications were cut in a large area of the Kherson region and blamed Russia. They attributed the outages to breakages in fibre-optic backbone cables and a power outage.
"Someone must have activated a line from Crimea to Kherson," said Doug Madory, director of internet analysis firm Kentik Inc, describing the events as "eerily similar" to what happened after Russia annexed Crimea in 2014.
The Ukrainian State Service of Special Communication also accused Russia of preparing to try to cement political control by introducing the Russian ruble as currency and staging a "possible fake referendum."