'What a joke': UK opposition slams Boris Johnson's response to Partygate scandal
Comments
By Euronews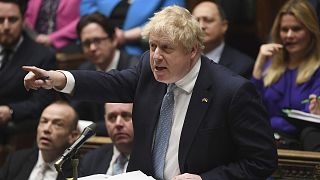 -
Copyright

Jessica Taylor/UK Parliament via AP
The leader of the opposition has called Boris Johnson's response to the Partygate scandal a "joke" after the UK prime minister renewed his apology for breaking COVID-19 rules in Parliament.
"What a joke," said Labour leader Keir Starmer on Tuesday. "The damage is already done. The public have made up their minds. They don't believe a word the prime minister says. They know what he is."
He later renewed calls for the PM to resign, labelling Johnson "a man without shame".
This was the first time Johnson had faced British lawmakers since police fined him for attending a birthday party during the pandemic lockdown.
In his address delivered to Parliament, Johnson said: "I take this opportunity on the first available sitting day to repeat my wholehearted apology to the House [of Commons]."
"I acknowledged the hurt and the anger, and I said that people had a right to expect better of their prime minister," he said, adding that he did not know he was breaching the rules at the time.
Johnson rejected calls for his resignation, saying the government should now "get on with the job of representing the British people."
He repeated that he was "heartily sorry" several times throughout the hour-long session, finishing by claiming that "Putin's barbaric assault of Ukraine" was a "priority" of his government.
'Don't insult the public', Starmer tells Conservatives
Speaking to a packed House of Commons, Starmer told MPs about the case of John Robinson whose wife died during the pandemic.
"John would've given the world to hold his dying wife's hand even if it was just for nine minutes — but he didn't because he followed the rules.
"Rules the prime minister repeatedly and deliberately ignored," he said.
Noting that some Conservative ministers have compared the PM's penalty with a speeding fine, Starmer responded by stating that "no one has ever broken down in tears because they couldn't drive faster than 20mph outside a school."
"Don't insult the public with this nonsense."
Starmer concluded by urging Conservative MPs to "put their country first, put their conscience first, put John Robinson first and remove the prime minister from office."
"In this country we respect others, we put the greater good above narrow self-interest, and understand rules apply to all of us," he added.
Last week Johnson said he paid the fine and offered a "full apology".
He has faced outrage over the multiple office parties held in 2020 and 2021, while people in the UK were prohibited from visiting friends and family.
The fine Johnson paid last week makes him the first PM in British history to have broken the law while in office.