Ukraine war: Dozens killed as rockets strike Kramatorsk train station in east
Comments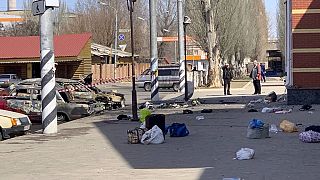 -
Copyright

HERVÉ BAR / AFP
The war in Ukraine is taking on a new dimension with growing evidence of human rights atrocities by Russian troops as they retreated from the Kyiv region and other parts of the north.
Despite Moscow's blanket denials, horrific discoveries of civilian murders and other barbaric acts are coming to light.
As Putin's forces concentrate their offensive on eastern Ukraine, NATO has promised Kyiv more weapons and Western nations are tightening sanctions against Moscow.
_Follow Friday's events as they unfolded below: _
04.08.2022
06:41
Friday's key points:
Ukrainian authorities say a Russian rocket attack has struck a railway station at Kramatorsk in eastern Ukraine, killing at least 50 people including five children and wounding "over 100". The station has been used by many evacuees in recent days and authorities say thousands were there at the time of the attack.
Condemning Russia, President Zelenskyy described the attack as "evil". The EU's foreign policy chief Josep Borrell, travelling to Kyiv on Friday with Commission President von der Leyen, blamed Russia for an "indiscriminate attack" designed to "close escape routes" for those fleeing violence.
Moscow has denied responsibility and suggested Ukraine was behind it.
EU national representatives have agreed on a fifth package of sanctions against Russia that includes an embargo on Russian coal imports and a ban on Russian ships in EU ports.

Russia will descend into 'economic, financial and technological decay', von der Leyen said at a joint press conference in Kyiv where she handed Zelenskyy a questionnaire to begin discussions on EU membership.

Zelenskyy has said the destruction in Borodyanka northwest of Kyiv is "more horrific" than Bucha, with even more victims as work begins to dig through the rubble after the Russian occupation.
President Biden said the images out of Bucha and other areas of Ukraine as Russian troops withdraw are "horrifying" and "an outrage to our common humanity".
The EU has proposed to increase weapons contributions to Ukraine by €500 million to a total of €1.5 billion, Council President Charles Michel said on Thursday. 
United Nations countries voted 93-24 in favour of suspending Russia's membership of the international body's Human Rights Council as the world calls out Russian atrocities in Ukraine.
04.08.2022
06:39
Does the EU's latest round of sanctions on Russia go far enough?
04.08.2022
22:16
Russia will descend into 'economic, financial and technological decay', von der Leyen says
European Commission President Ursula von der Leyen said at a press conference in Kyiv that Russia will descend into "economic, financial and technological decay while Ukraine is marching towards a European future".

The Commission president said the Ukrainian people were "holding up the torch of freedom."

Earlier, she travelled to Bucha to see the mass graves of civilians reportedly killed by Russian troops.

"You can tell that our humanity was shattered in Bucha," von der Leyen said, adding that it was right that Russia was suspended from human rights council.

She said that Ukraine belongs to the European family and transferred an envelope to Ukrainian President Volodymyr Zelenskyy with a questionnaire as the beginning of Ukraine's accession to the European Union.
04.08.2022
21:30
Chernobyl staff 'exhausted mentally and physically', Ukraine energy minister tells Euronews
Ukrainian energy minister German Galushchenko told Euronews that staff at Chernobyl were "exhausted mentally and physically" after working under Russian occupation for more than a month.
"It's a big pressure to operate the station under occupation," Galushchenko said. It is "really very difficult because every day (the staff had) to speak with Russian soldiers."
The Ukrainian official added that Russian soldiers had dug the land in the forest, thus influencing radiation levels.

Read the full story here.
04.08.2022
20:45
Ukrainian officials: 67 buried in mass grave
The Ukrainian prosecutor general's office says approximately 67 bodies were buried in a mass grave near a church in Bucha, a northern Kyiv suburb where journalists and returning Ukrainians discovered scores of bodies on streets and elsewhere after Russian troops withdrew.
Prosecutor General Iryna Venediktova said Friday that 18 bodies had been located so far, 16 with bullet wounds and two with bullet and shrapnel wounds. Two were women and the rest were men, she said.
"This means that they killed civilians, shot them," Venediktova said, speaking as workers pulled corpses out under spitting rain. Black body bags were laid in rows in the mud.
The prosecutor general's office is investigating the deaths, and other mass casualties involving civilians, as possible war crimes. Venediktova said the European Union is involved in the investigation and "we are coordinating our actions."

(AP)
04.08.2022
20:28
Russia closes local offices of Amnesty and HRW
Russia has closed the local offices of human rights organisations Amnesty International and Human Rights Watch, according to a statement released on Friday by the Russian Ministry of Justice.
The local representation of Amnesty (United Kingdom) and that of HRW (United States) have "been excluded from the official register of foreign non-governmental organisations" in Russia, due to "violations of Russian legislation", according to the statement.

(AFP)
04.08.2022
19:31
UK pledges more military equipment to Ukraine
Prime Minister Boris Johnson pledged another 100 million pounds in high-grade military equipment to Ukraine, saying Britain wants to help Ukraine defend itself.
Speaking Friday at a news conference with Germany Chancellor Olaf Scholz, Johnson said he would give Ukraine's military more Starstreak anti-aircraft missiles, another 800 anti-tank missiles, and precision munitions capable of lingering in the sky until directed to their target.
He also promised more helmets, night vision and body armour. The items were in addition to some 200,000 pieces of non-lethal military equipment from the UK that had already been promised.
The pledge of new weaponry came as Johnson condemned the attack on a train station in the eastern Ukrainian city of Kramatorsk earlier on Friday. Women and children gathering on a train platform perished in the blast.
Johnson said both the UK and Germany shared the "revulsion at the brutality being unleashed, including the unconscionable bombing of refugees fleeing their homes,'' adding that the train station attack "shows the depths to which Putin's vaunted army has sunk.''

(AP)
04.08.2022
17:50
'We fear the worst', UNICEF's Ukraine representative says of child death toll in Kramatorsk train station attack
A Russian rocket attack killed dozens at a train station in Kramatorsk in eastern Ukraine which was used by evacuees in recent days.

"We do not know yet how many children were killed and injured in the attack, but we fear the worst," said UNICEF Ukraine Representative Murat Sahin in a statement.

"Kramatorsk train station has been the main route out for thousands of families evacuating from Donetsk oblast, which has seen some of the war's worst destruction, to relatively safer areas in Ukraine."

According to local authorities, at least five children have been killed in the attack.
04.08.2022
17:45
Local authorities announce curfew in Odesa from Saturday evening to Monday morning
A curfew will be in effect from Saturday evening to Monday morning in Odesa, the Ukrainian port on the Black Sea, in the face of a "threat" of missile strikes, local authorities announced.
After the bombing of the Kramatorsk train station in eastern Ukraine, which left at least 50 dead, "a threat of a missile attack looms in Odesa on April 10, 2022. That's why a curfew is imposed in Odesa and its region from 9 p.m. on April 9 until 6 a.m. on April 11, 2022," the regional military administration said on Friday.

(AFP)
04.08.2022
17:12
Coal, trucks, vodka and Putin's daughters: Here's our guide to what's in the latest round of EU sanctions
Following two days of long and heated negotiations, EU countries have agreed to slap Russia with a new round of sanctions that, for the first time, directly targets energy supplies.
The sanctions package – the fifth in total since the war in Ukraine began – comes in response to the alleged indiscriminate killings of civilians in Bucha, a suburb near Kyiv.
The images of bodies strewn across the streets prompted an outpouring of international condemnation against the Kremlin, which continues to deny any responsibility in the massacre.
"To take a clear stand is not only crucial for us in Europe, but also for the rest of the world. A clear stand against Putin's war of choice," said Ursula von der Leyen, president of the European Commission, earlier this week.
The new set of penalties has been described as "massive" and "far-reaching" by EU officials but they present exemptions and loopholes that might blunt its effectiveness.
So what exactly is in the latest package?

Read the full Euronews guide to the latest round of EU sanctions here.
For a summary of Thursday's developments, click here.