Ukraine war latest: Shelling continues, as Kyiv refuses Russia's ultimatum to surrender Mariupol
Comments
By Euronews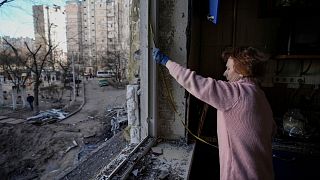 Copyright

AP Photo/Vadim Ghirda

-
Monday marks the 25th day of war in Ukraine after the invasion was launched by Moscow on 24 February.
The fighting has forced more than ten million Ukrainians to flee their homes, with thousands of people killed or wounded and widespread damage in the wake of shelling and aerial bombardments.
Follow our live updates below.
03.21.2022
06:51
Monday's key points: 
Ukraine's government has refused Moscow's ultimatum for the surrender of the southern port city of Mariupol, asking for the humanitarian corridor to be established as soon as possible - an option the Kremlin refuses.

EU Home Affairs Commissioner Ylva Johansson is warning of a "huge risk" that Ukrainian children and women fleeing the war may fall victim to human trafficking.

The last EU diplomat to leave Mariupol says people there are being hit indiscriminately by Russian attacks. 

Facebook and Instagram have been banned in Russia, with a court ruling Monday that they carry out "extremist" activities. 

Russia says it shelled a Kyiv shopping centre because it was a weapons store. At least eight people were killed after the mall was attacked on Sunday.

The United Nations says 10 million people in Ukraine have now fled their homes since the Russian invasion began at the end of February.
 
Radiation monitors at Chernobyl 'have stopped working', says Ukraine's nuclear regulatory agency
03.21.2022
21:30
Two Ukrainians freed from Dutch jail to join fight in their homeland
Two Ukrainian men in the Netherlands have been released from prison to go and join the fight in their homeland. 
The men had been detained for six months on suspicion of human trafficking but last Friday a court freed them to answer the Ukrainian government's call to defend the country.
The two men, aged 27 and 29, are from Lutsk in northwest Ukraine, and are suspected of helping eleven Albanians who were trying to reach England by boat. 
The court said that due to "the war situation in Ukraine, the Ukrainian government's appeal to its people to defend the country", the defendants' wish to respond to this appeal and their interest to be with their families, was the reason why they were being released. 
These circumstances are "extraordinary" and "serious", according to the court, which also considers that the interest of the suspects in being released "outweighs the social interest served by the continued detention on remand". 
"To our knowledge, this has never happened before in the Netherlands," a court spokeswoman told AFP news agency.
The suspects will not have to be in court for their trial, but if they receive a prison sentence they're supposed to come back to serve time. 
03.21.2022
20:07
'Civilians cannot leave Mariupol'   
Witnesses fleeing the besieged port of Mariupol say they are leaving behind a city that has been almost entirely destroyed by Russian bombardment and heavy fighting.
Maria Fiodorova crossed the border from Ukraine into Medyka, Poland, on Monday after an arduous, five-day journey. The 77-year-old woman told The Associated Press that the city is almost 90 per cent destroyed, with every building razed to the ground.
Video captured by The Associated Press shows residents pushing carts and carrying bags of food and supplies along debris-ridden streets and passages. The siege has caused shortages of food, water and energy supplies, according to city officials who say at least 2,300 civilians have been killed thus far in Mariupol.
Residents have fled Mariupol not knowing what, if anything, will be left — if and when they return.
Another Ukrainian woman who made it to the Polish border said she left behind a sister in Mariupol who reported that Russian soldiers there are not allowing anyone to leave.
"She told me that they have already switched to a Russian time zone, that there are lots of Russian soldiers walking around the city. Civilians cannot leave," Yulia Bondarieva, who fled Kharkiv for Medyka, told the AP. She feared that her sister and family would soon run out of food and water.
03.21.2022
18:53
Red Cross chief heading to Moscow for talks
The President of the International Committee of the Red Cross Peter Maurer, is heading to Moscow this week for talks with Russian officials to discuss the conduct of hostilities and prisoners of war in particular. 
The Russia trip comes after Maurer spent five days in Ukraine last week where he met with Prime Minister Denys Shmyhal and other ministers. 
"I have to go to Moscow tomorrow and I hope to have conversations in Moscow on Wednesday and Thursday. I will meet with senior representatives of the Ministry of Defense and the Ministry of Foreign Affairs" Maurer said on Monday in an interview with AFP news agency. 
"My objective is to advance certain issues including the issue of prisoners of war, the deceased, the conduct of hostilities... all issues that arise directly from our role as guardian of the Geneva Conventions" he explained. 
One of the main roles of the ICRC is to ensure that belligerents respect the rights of prisoners of war. In international armed conflicts, the Geneva Conventions also recognize the ICRC's right to visit prisoners of war.
The organization has not yet started visiting Ukrainian or Russian detainees, but Maurer was optimistic about it.
03.21.2022
17:54
Alleged attack on Russian teenager in Germany is 'fake', say police
An alleged fatal attack on a Russian teenager in Germany by a group of Ukrainians is "fake," police have said.
Authorities in the state of North Rhine-Westphalia said they had "no information about such a violent assault or a death", despite viral video footage of a woman crying as she shared a friend's story about an alleged assault on a 16-year-old Russian-speaking boy in the town of Euskirchen.
Read more in our story here:
03.21.2022
17:47
Russians claim shelled Kyiv shopping centre was weapons storage facility
The Russian military says it targeted a shopping centre on the outskirts of Kyiv because it was being used to store rockets. 
At least eight people were killed in Sunday's attack on the Retroville shopping centre in northwest Kyiv. 
Russian Defense Ministry spokesman Major General Igor Konashenkov said on Monday that Ukrainian forces were using the shopping mall to reload multiple rocket launchers and store rockets used for shelling Russian troops.
He said that a battery of multiple rocket launchers and ammunition for them were destroyed in the strike. The defense ministry spokesman's claims could not independently verified.
Residents of a nearby building, whose windows were blown out by the blast, said they had seen a mobile rocket launcher near the Retroville shopping centre several days earlier.
The shopping center in the densely populated Podil district was reduced to a smoldering ruin after being hit late Sunday by shelling that killed eight people, according to Ukrainian emergency officials. The attack shattered every window in a neighboring high-rise.
03.21.2022
17:15
EU Commissioner highlights 'huge risk' of trafficking for Ukrainian women and children
There is a "huge risk" that Ukrainian children and women fleeing the war may fall victim to human trafficking, the European Union's Home Affairs Commissioner warned on Monday.
Speaking during a visit to Estonia, Ylva Johansson told reporters there had been only a few reports of trafficking but that one big concern is the number of orphans in Ukraine, and the risks of vulnerable children being trafficked or being the victims of forced adoption.
Read more in our story here: 
03.21.2022
15:38
Russian court bans Facebook and Instagram for 'extremism'
A Moscow court banned the Facebook and Instagram social media networks on Monday, saying they carry out "extremist" activities.
"The court has satisfied a lawsuit filed by the First Deputy Prosecutor General against the holding company Meta Platforms Inc. relating to the prohibition of its activities on Russian territory," the court said in a message on Telegram.
Social networks run by Meta are "banned for extremist activity", the court added.
US-headquartered Meta is the parent company of Facebook and Instagram, but also of the messaging application WhatsApp, which is not affected by this decision because the court ruled that it was not used as a means of "public dissemination of information".
Russia's security services, the FSB, earlier on Monday demanded an "immediate" ban on Facebook and Instagram, accusing them of activities "directed against Russia and its armed forces".
Read more at our story here: 
euronews
Meta's Instagram and Facebook have been banned, but the court decided WhatsApp could stay.
03.21.2022
14:27
People in Mariupol are being hit 'blindly and indiscriminately'
Greece's consul general in Mariupol, who arrived in Greece after being the last European Union diplomat to be evacuated from the besieged Ukrainian city, said civilians in the city were being hit "blindly and indiscriminately."
He estimated there were thousands of civilian victims.
"Mariupol will enter the list of cities that were completely destroyed by war," Manolis Androulakis said Sunday after arriving at Athens airport, comparing it to cities devastated by past conflicts such as Chechnya's Grozny, Syria's Aleppo, Britain's Coventry, Spain's Guernica, and the Soviet Union's Leningrad, now St. Petersburg.
Androulakis left Mariupol on 15 March, on a day when tens of thousands of people managed to flee the city, and reached Moldova three days later. He had earlier assisted in evacuating dozens of Greek nationals and members of Ukraine's Greek community from the city.
Androulakis urged people to "unite our voices for a ceasefire. Because at the moment civilians are being hit, blindly and indiscriminately".