British defence secretary contacted by 'imposter' of Ukrainian PM
Comments
By Euronews with AP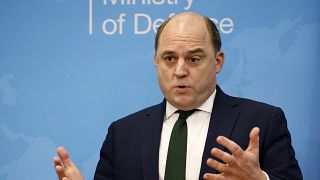 -
Copyright

TOLGA AKMEN/AFP or licensors
British defence secretary Ben Wallace has said that he received a call from "an imposter claiming to be [the] Ukrainian PM".
Wallace said on Twitter that he was asked "misleading questions" after which he terminated the call.
He blamed Russian disinformation for the attempt, stating that "dirty tricks" would not distract from "Russia's human rights abuses and illegal invasion of Ukraine".
He called it "desperate" but did not provide further information about the incident.
Two Russian pranksters have since claimed credit for tricking Britain's defence secretary into a hoax call
A video of the "prank" circulated on YouTube on Tuesday after the UK accused Russian President Vladimir Putin's government of being behind the imposter call.
British authorities had alleged that the Kremlin had tried to access sensitive or embarrassing information from the defence minister.
Vladimir "Vovan" Kuznetsov and Alexei "Lexus" Stolyarov -- a pair of hoaxers who had previously targeted Prince Harry -- have claimed responsibility and denied any links to Russia's security services.
Their video shows Wallace speaking from Poland to a caller who says Ukraine supposedly wants to advance its "nuclear programme" to protect itself from Moscow.
The UK Ministry of Defense said the video had been "doctored."
"Things must be going so badly for the Kremlin that they are now resorting to pranks and video fakes," Wallace added in a later tweet.