Vladimir Putin recognises Ukrainian separatist regions, in escalation of tensions
Comments
By Euronews with AP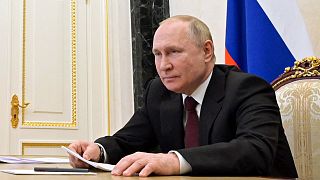 -
Copyright

Alexei Nikolsky, Sputnik, Kremlin Pool Photo via AP
Russian President Vladimir Putin has signed a decree to formally recognise the independence of two rebel-controlled regions in eastern Ukraine, breaching the 2015 protocol that ended the conflict in Donbas and further inflaming the tensions between the two countries.
The Kremlin later said Putin would send forces to the region to "maintain peace" though it was unclear when they would enter the country.
Putin made the announcement to recognise the separatist regions — the so-called Donetsk and Luhansk People's Republics — at the end of a long speech, broadcast live, where he laid out his view of the threats to Russia from an encroaching West; painted a picture of a pro-European Ukraine with a broken economy where the sizeable Russian minority are oppressed; and said Ukrainian and NATO forces could potentially attack Russia with missiles at short notice.
President Putin had signed the paperwork earlier on Monday, and has asked the Russian parliament to ratify his decision as soon as possible.
Reaction from European leaders
European Commission president Ursula von der Leyen was among the first leaders to react to Mr Putin's announcement.
She described the recognition of the territories in eastern Ukraine as "a blatant violation of international law, the territorial integrity of Ukraine and the Minsk agreements."
"The EU and its partners will react with unity, firmness and with determination in solidarity with Ukraine."
Meanwhile British Prime Minister Boris Johnson described recognition of the breakaway republics as "plainly in breach of international law."
Speaking at a London press conference while the Russian president was still addressing the nation, Mr Johnson said it was a "flagrant violation of the sovereignty and integrity of Ukraine."
"It is a repudiation of the Minsk process and the Minsk agreements and I think it's a very ill omen and a very dark sign" he said, adding that the UK would have to consider what more they could do to support Ukraine.
Earlier on Monday the EU's top diplomat Josep Borrell threatened tougher sanctions against Russia if the situation escalated, while US President US President Joe Biden and French President Emmanuel Macron both called for their countries' security councils to convene for emergency meetings in light of the news from the Kremlin.
German Chancellor Olaf Scholz said that Moscow's recognition of the separatist regions' independence would be a "unilateral breach" of the Minsk agreements, in the run-up to the three-way conversation with Macron and Ukraine's President Volodymyr Zelenskyy prior to Putin's live announcement.
"Chancellor Scholz condemned plans in Russia to recognise the so-called People's Republics of Donetsk and Luhansk as independent states," German federal government's spokesman Steffen Hebestreit said.
"Such a step would be in blatant contradiction to the Minsk agreements on the peaceful settlement of the conflict in eastern Ukraine and would be a unilateral breach of these agreements by Russia."
Ukraine calls for United Nations emergency meeting
Ahead of President Putin's announcement Ukrainian authorities also asked the United Nations Security Council's to assemble in an emergency session.
"At the request of President Volodymyr Zelenskyy, I am officially requesting immediate consultations of UN Security Council members on behalf of Article 6 of the Budapest Memoranda," Foreign Minister Dmytro Kouleba stated.
The UN also joined in the call for restraint, asking Russia to "refrain" from "unilateral decisions" that "undermine the integrity" of Ukraine, the organisation's spokesperson said on Monday evening.
"We underline our call for an immediate cessation of hostilities, maximum restraint for all parties to avoid any action and statement that would further aggravate tensions," Stéphane Dujarric said, stressing that all disputes should "be dealt with through diplomacy".
Putin holds security council meeting
Monday evening's announcement in Moscow came after a meeting of Russia's National Security Council.
Putin had said that he would decide on whether to recognise the two regions by the end of the day after an emergency meeting with his top security officials.
"I have heard your opinions. The decision will be taken today," Putin told members of Russia's National Security Council at the end of the session, broadcast on Russian television in the early afternoon.
Putin convened his top officials — including defence minister Sergey Shoigu and foreign minister Sergei Lavrov — to consider recognising the independence of self-proclaimed republics in Donbas, a move that would ratchet up tensions with the West amid fears that the Kremlin could launch an invasion of Ukraine imminently.
Security Council members all asked Putin to say yes.
"I see no other way," Lavrov said at the meeting. "As for offering the West two or three days to come to its senses, it is a matter of taste, of course, but it will certainly not change its position."
The publicly staged, pre-recorded meeting of the presidential Security Council came amid a spike in skirmishes in the breakaway area that Western powers believe Russia could use as a pretext for an attack on its neighbour that has for years defied Moscow's attempts to pull it back into its orbit.
Leaders of the two territories that unilaterally declared independence as quasi-states in 2014 released televised statements earlier pleading with Putin to recognise them as states and sign friendship treaties envisaging military aid to protect them from what they described as an ongoing Ukrainian military offensive.
Russia's lower house of parliament made the same plea last week.
Flashpoints in Donbas multiply
Russia and Ukraine have been locked in a bitter war since 2014 when Ukraine's Kremlin-friendly leader Viktor Yanukovych was driven from office by the Maidan uprising.
Moscow responded by annexing Crimea and then backing a separatist insurgency in the region, where the eight-year-long fighting has killed over 14,000 people.
With an estimated 150,000 Russian troops massed on three sides of Ukraine, the US has warned that Moscow has already decided to invade. Still, the American and Russian presidents tentatively agreed to a possible meeting in a last-ditch effort to avoid war.
The meeting is said to be off the table if Russia invades. Still, the prospect of a face-to-face summit resuscitated hopes that diplomacy could prevent a devastating conflict, which would result in massive casualties and enormous economic damage across Europe, which is heavily dependent on Russian energy.
Even as the diplomatic efforts inched forward, potential flashpoints multiplied. Sustained shelling continued on Monday in the long-running conflict in Ukraine's east between government forces and Moscow-backed separatists.
Unusually, Russia said it had fended off an "incursion" from Ukraine — which the Ukrainian officials denied. And Russia decided to prolong military drills in Belarus, which could offer a staging ground for an attack on the Ukrainian capital, Kyiv.
The Kremlin initially signalled its reluctance to recognise the regions as independent, arguing that it would effectively shatter a 2015 peace deal for eastern Ukraine and the associated Minsk agreements that marked a major diplomatic coup for Moscow, requiring Ukrainian authorities to offer broad self-rule to the rebel regions.
But in Monday's security meeting, Putin and other officials argued that Ukrainian authorities had shown no appetite for implementing the deal.
Russia says it wants Western guarantees that NATO won't allow Ukraine and other former Soviet countries to join as members. It has also demanded the alliance halt weapons deployments to Ukraine and roll back its forces from Eastern Europe — demands flatly rejected by the West.