Ukraine separatists mobilise troops as clashes intensify amid Russia invasion fears
Comments
By Euronews with AP, AFP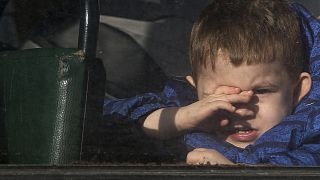 -
Copyright

AP Photo/Alexei Alexandrov
Separatist leaders in eastern Ukraine ordered a full military mobilisation on Saturday as more violence was reported in the conflict-ridden region, amid fears in the West that Russia might use the strife as a pretext for an invasion.
Ukraine's military said in the afternoon that a second soldier had been killed on the eastern front. Earlier the army said shelling had killed a first soldier in the government-held part of the Donetsk region, and that separatist forces were placing artillery in residential areas to try and provoke a response.
Four soldiers were injured and taken to hospital, the army said in a statement, accusing the separatists of having committed 70 ceasefire violations.
Mortar shells exploded near Ukraine's interior minister Denys Monastyrsky as he visited the front line in the east, AFP journalists reported. It happened near the village of Novoluhanske, which several Ukrainian officials have visited recently. No-one was injured.
Ukraine's Foreign Minister Dmytro Kuleba "resolutely" refuted any allegations that Ukrainian shells had landed in Russian territory. The Russian news agency TASS reported on Saturday said that a shell exploded in Russia's Rostov region, one kilometre from the Ukrainian border.
Moscow denies it is planning to invade Ukraine, despite the huge military buildup on the country's borders.
Separatists called on 'to defend families'
Earlier on Saturday Denis Pushilin, the head of the pro-Russia separatist government in Ukraine's Donetsk region, released a statement announcing a full troop mobilisation. A similar announcement quickly followed from his counterpart in the Luhansk region.
Pushilin cited an "immediate threat of aggression" from Ukrainian forces, accusations that Ukrainian officials vehemently denied earlier.
"I appeal to all the men in the republic who can hold weapons to defend their families, their children, wives, mothers," Pushilin said. "Together we will achieve the coveted victory that we all need."
Meanwhile, thousands of evacuees made their way to Russian soil after separatists issued an evacuation order for the rebel-controlled territories in eastern Ukraine.
A large number arrived in the Neklinivsky District of the Rostov region immediately adjacent to the rebel-controlled Donetsk region.
More than 6,600 people had been evacuated from Donetsk, and some 25,000 people have left Luhansk, with 10,000 preparing to leave, separatist officials said earlier. The rebels began evacuating civilians to Russia on Friday with an announcement that appeared to be part of their and Moscow's efforts to paint Ukraine as the aggressor.
Russia conducts nuclear drills
With an estimated 150,000 Russian troops now posted around Ukraine's borders, the long-simmering separatist conflict could provide the spark for a broader attack.
Meanwhile, Russia conducted massive nuclear drills on Saturday. The Kremlin said Putin, who pledged to protect Russia's national interests against what it sees as encroaching Western threats, was watching the drills together with Belarusian President Alexander Lukashenko from the situation room in the Kremlin.
The exercises involve multiple practice launches of intercontinental ballistic missiles and cruise missiles, the Defence Ministry said, with footage showing missiles being launched from a nuclear submarine.
Notably, the planned exercise involves the Crimea-based Black Sea Fleet. Russia annexed the Crimean Peninsula after seizing it from Ukraine in 2014.
The separatists and Ukrainian forces have been fighting for almost eight years. But the violence along the line of contact separating the two sides, including a humanitarian convoy hit by shelling, has risen in recent days. A car bombing Friday in the city of Donetsk also sharpened the sense of alarm.
Ukraine dominates Munich conference
Western leaders on Saturday stepped up their warnings over the prospect of a Russian invasion of Ukraine, accusing Vladimir Putin of seeking to undermine European security and overhaul international order.
Meeting at the Munich Security Conference as they seek to avert war in Europe — a prospect many thought unthinkable until recently — several leaders said Russia would face severe consequences should it attack Ukraine.
Ukraine's President Volodymyr Zelenskyy used his speech to demand a "clear and feasible" timetable for his country to join NATO, calling for what he called the "politics of appeasement" towards Russia to cease.
On Friday US President Joe Biden said he was "convinced" Vladimir Putin had decided to invade Ukraine, in his clearest warning yet over the Russian president's intentions.
Underscoring the West's concerns of an imminent invasion, a US defence official said an estimated 40% to 50% of the ground forces deployed in the vicinity of the Ukrainian border have moved into attack positions closer to the border.
The shift has been underway for about a week, other officials have said, and does not necessarily mean Putin has decided to begin an invasion.