Ukraine's Zelenskyy demands 'clear timetable' to join NATO and an 'end to appeasement' of Russia
Comments
By Euronews with AP, AFP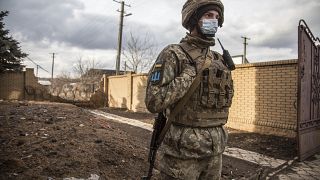 -
Copyright

AP Photo/Oleksandr Ratushniak
Western leaders on Saturday stepped up their warnings over the prospect of a Russian invasion of Ukraine, accusing Vladimir Putin of seeking to undermine European security and overhaul international order.
Meeting at the Munich Security Conference as they seek to avert war in Europe — a prospect many thought unthinkable until recently — several leaders said Russia would face severe consequences should it attack Ukraine.
Ukraine's President Volodymyr Zelenskyy, present in Munich, used his speech to demand a "clear and feasible" timetable for his country to join NATO, calling for what he called the "politics of appeasement" towards Russia to cease.
European Commission President Ursula von der Leyen accused Russia of a "blatant attempt" to "rewrite the rules" of the international system.
German Chancellor Olaf Scholz said that "the deployment of well over 100,000 soldiers around Ukraine is justified by nothing", while UK Prime Minister Boris Johnson said a Russian invasion would echo around the world.
Their comments came the day after US President Joe Biden said he was "convinced" Vladimir Putin had decided to invade Ukraine, in his clearest warning yet over the Russian president's intentions.
US Vice President Kamala Harris told the conference on Saturday that the principles forged after two world wars in Europe were under "direct threat" in Ukraine, and pledged unity with America's allies. Russia will face "unprecedented" financial penalties if it invades, she added.
Ukraine has accused pro-Russian separatists of escalating the violence, amid fears in the West that Russia might use the strife as a pretext for an invasion. Moscow denies it is planning to invade Ukraine, despite the huge military buildup on the country's borders.
In other developments:
Separatist leaders in eastern Ukraine ordered a full military mobilisation on Saturday amid intensified violence in the war-torn region. The evacuation of thousands of civilians into Russia has continued.
The Ukrainian army say two soldiers have been killed, the first fatalities in weeks, and four injured. Mortar shells reportedly exploded near Ukraine's interior minister as he visited the front line.
Ukraine's foreign minister "resolutely" refuted any allegations that Ukrainian shells had landed in Russian territory. Reports in Russian media on Saturday said that a shell exploded close to the Ukrainian border.
The Kremlin said on Saturday that President Putin had launched "strategic" military exercises — including the firing of ballistic missiles — which he was overseeing along with the Belarusian leader Alexander Lukashenko.
France and Germany have called on their nationals in Ukraine to leave the country. The French foreign ministry said those in exposed eastern zones should "leave these areas immediately". The foreign ministry in Berlin issued a similar message for all German nationals in Ukraine.
Lufthansa said it will suspend all flights to Kyiv and Odessa from Monday until the end of the month. But the German airline said flights to Lviv in western Ukraine will continue.
VdL: EU 'ready' to respond if Russia strikes
Faced with the threat from Russia, the West should "support Ukraine and its defence capacities" and give the country "a clear and feasible timetable" towards NATO membership, President Zelenskyy told the Munich conference.
NATO leaders promised future membership to ex-Soviet republics Ukraine and Georgia back in 2008.
Despite being promised security when it renounced nuclear weapons, the Ukrainian leader said his country had been left with neither. "We have the right to demand an end to the politics of appeasement and to demand guarantees of security and peace," he declared.
Zelenskyy, who had rejected calls to remain in his country amid the heightened tension, suggested a meeting with Vladimir Putin to clarify the Russian leader's intentions.
In her speech earlier on Saturday, Ursula von der Leyen portrayed the Russian stance over Ukraine as a part of a wider attempt to overhaul the international geopolitical system.
She said the Russian military buildup and threat to Ukraine meant that a generation "born and bred in a free country" were now faced with the prospect of fighting "a war that they don't want, but which Moscow might choose to impose on them".
"This is what the Kremlin's policies mean in practice: to instil fear, and call it 'security demands'," the European Commission president said in her speech, adding that they were an attempt to deny Ukraine the right to determine its own future.
"The Kremlin is not only trying to undermine the entire European security architecture," she went on, it was also violating the UN charter proscribing the use and threat of force towards other countries.
"We cannot let this stand. We are facing a blatant attempt to rewrite the rules of the international order," saying Russian and Chinese leaders were openly seeking "a new era" based on the "rule of the strongest", "intimidation" and "coercion".
The European Union and its partners had been preparing a "robust" package of financial and economic sanctions in response to Russian aggression, von der Leyen added. "If the Kremlin strikes, we can impose high costs and severe consequences on Russia's economic interests."
'Foundation of European security under threat'
US Vice President Kamala Harris told the Munich conference on Saturday that the "foundation of European security is under direct threat in Ukraine", a challenge to the order that had been forged in Europe in the aftermath of two world wars.
The United States was committed to principles where people could choose their own form of government and countries could choose their own alliances, she said. "Sovereignty and territorial integrity of all states must be respected, and... national borders should not be changed by force."
Harris — who met Baltic state leaders on Friday — said that a Russian attack on Ukraine would bring a reinforcement of NATO forces in eastern Europe as well as severe and rapid economic sanctions against Moscow. She had previously said she would use her speech to demonstrate "strength and unity in the face of Russian aggression".
In his speech, German Chancellor Olaf Scholz described as "ridiculous" Vladimir Putin's accusations over a supposed "genocide" committed against civilians in areas of Ukraine's eastern Donbas region controlled by pro-Russian separatists.
The British Prime Minister warned that a Russian invasion of Ukraine would bring "the destruction of a democratic state" and would embolden rulers who believe that "might is right".
"The shock will echo around the world. And those echoes will be heard in East Asia. They will be heard in Taiwan," Boris Johnson said.
He suggested that consequences for Russia would be severe and that it would not be allowed "to change the security architecture of Europe".
The Munich gathering has been used in recent years by both US and Russian leaders to deliver pivotal messages before an important audience.
Fifteen years ago, Putin used his own Munich appearance to deliver a broadside against NATO, accusing the alliance of putting "its frontline forces on our borders". However, this year Russia is not officially represented.
Russia now wants guarantees that NATO will halt its eastward expansion, rule out membership for Ukraine and other former Soviet countries, and roll back its military deployments in Central and Eastern Europe.
Biden 'convinced' Putin intends to invade
After weeks of saying the US wasn't sure if Putin had made the final decision to invade, US President Joe Biden said on Friday that assessment had changed, citing American intelligence.
"As of this moment I'm convinced he's made the decision," Biden said. "We have reason to believe that." He reiterated that the assault could occur in the "coming days," including an assault on the capital Kyiv.
The White House on Friday accused Russia of being responsible for recent cyberattacks targeting Ukraine's defence ministry and major banks.
With an estimated 150,000 Russian troops posted around Ukraine's borders, US and European officials warn that the long-simmering separatist conflict in eastern Ukraine could provide the spark for a broader attack.
One US defence official has estimated that up to 50% of Russian forces near the border have been moved into attack positions, while the number of ground units has increased.
Russia said it launched a massive drill of its strategic nuclear forces on Saturday, involving multiple practice launches of intercontinental ballistic missiles and cruise missiles. According to the defence ministry, The Russian and Belarusian presidents observed the drills from the Ministry's situation room.
Heightened tension in Ukraine's east
Separatist leaders in eastern Ukraine ordered a full military mobilisation Saturday amid a spike of violence in the war-torn region.
They said thousands of residents of the rebel-controlled areas had been evacuated to Russia, in response to the "threat of aggression by Ukrainian forces". Ukraine denies any intention to launch military action in the Donbas.
Ukraine's military said on Saturday that two soldiers had been killed and four wounded on the eastern front, accusing pro-Russian separatists of ceasefire violations.
Mortar shells exploded near Ukraine's interior minister as he visited the front line in the east, AFP journalists reported. No-one was injured.
Meanwhile, Ukraine's Foreign Minister Dmytro Kuleba "resolutely" refuted any allegations that Ukrainian shells had landed in Russian territory. The Russian news agency TASS reported on Saturday said that a shell exploded in Russia's Rostov region, one kilometre from the Ukrainian border.