Do great footballers make great managers?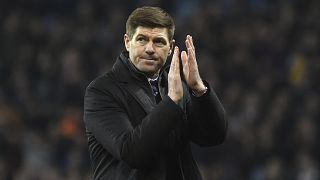 -
Copyright

Rui Vieira/Copyright 2022 The Associated Press. All rights reserved.
FOOTBALL NOW is a new show that brings to light some of the global game's biggest issues, challenges, and debates.
'Who'd be a football manager?' is a phrase often heard in football. The sleepless nights, media scrutiny, the constant fear of the sack. While there are drawbacks, this hasn't stopped several recently retired players from beginning their coaching careers.
Since taking charge, Wayne Rooney, Xavi, Steven Gerrard and Frank Lampard have made their mark at their respective clubs (Derby County, Barcelona, Aston Villa and Everton). The four are, quite clearly, legends of the game, but has their impressive track records on the pitch contributed to their success as managers? According to UEFA Coach Pedro Mendoca, the answer is a resounding yes.
"I think that (playing at a high level) is a great opportunity because it can allow you to be a good manager. And if you are not a great player in order to play it, you need more time to arrive at that place. So if you are a great player, like Lionel Messi, and you say, 'I want to be the coach', they're going to give you the opportunity because, like Frank Lampard and Wayne Rooney, they did not start in very low teams. They are going to have more opportunities."
To manage in any of the five biggest divisions in Europe (Spain, Italy, England, Germany and France), coaches need a UEFA Pro Licence. To achieve this they must complete five courses which includes an A, B and C Licence.
To play or to study? That is the question
Many football players can't start their courses until after retiring from the game because of the relentless nature of the sport. Coaches who haven't played at the highest level can often begin their coaching journey earlier. Which approach is best?
"I think given where football is currently at, if you had to pick one, I would probably go down the playing path." sports broadcaster, Adriano Del Monte states.
"We've seen the likes of Jose Mourinho, a legendary manager. He forever will be, but he is perhaps someone who has fallen out of touch with the demands of modern-day football. So, I do think that coaching badges can only take you so far. I think that having that insight and that extra knowledge from a playing career can give you a leg up and give you that advantage. But again, (there is) no guarantee that that translates into success. Some recent examples such as Ole Gunnar Solskjaer at Manchester United, A legendary player, one of the best individuals who I've dealt with in football, just an absolute gentleman, but obviously lacked something from the tactical side, from perhaps a leadership side as well to bring out the very best in his players."
Having a successful playing and managing career takes a particular type of character. Johan Cruyff, for instance, won 3 Ballon d'Or as a player. As a coach, he transformed Barcelona, inventing a style of football that inspired future generations of teams and coaches alike. Even though Pep Guardiola was not one of the world's best players, he had a stellar playing career. His record as a coach is unbeatable. With 31 major honours to his name, the Spaniard won league titles in Spain, Germany, and England, beginning at Barcelona with his 'tiki-taka' style of play that captivated the world. In 1998, Zinedine Zidane was voted the world's best player. 20 years later, the Frenchman guided Real Madrid to their third consecutive Champions League title. Zidane's personality has helped make him one of Europe's best managers, says Pedro Mendoca.
"I think that he is a great character. (He is not) so egocentric, and he doesn't think about himself (instead) 'what is the best for my team and the best for my team is that the players are good at feeling good'. And then you have connections with some coaches because he knows the players. They have to be physical, in good shape and with a good mood."
The early managerial bloomers
Jose Mourinho began his extraordinary managerial career at a young age after his playing days were cut short when he was just 24 years old. Similarly, Thomas Tuchel's career came to an end at 26. As a manager, that hasn't stopped him recently lifting the Champions League and Club World Cup.
Fellow countryman Gerard Houllier never played professionally but this did not stop him from managing his country along with winning three trophies during the 2000/01 season with Liverpool. Not many will remember what Arsene Wenger produced on the pitch, but he will forever be talked about as the only ever manager to lead his side to an unbeaten Premier League season in 2005.
A football manager's road to success can take many routes. For Xavi, Rooney and Gerrard, winning major trophies as players will undoubtedly be an essential component of their quest to succeed on the touchline.