COVID in Europe: Germany mulls easing restrictions after Omicron peak subsides
Comments
By Euronews with AFP, AP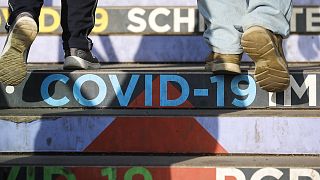 -
Copyright

AP Photo/Lisa Leutner
The German government is working on plans to relax COVID-19 restrictions after the peak in new cases has passed, likely by the end of February.
Unlike some of its European neighbours, Germany still has many pandemic restrictions in place that exclude unvaccinated people from restaurants, public venues and some stores.
"Perspectives for opening are being developed," government spokeswoman Christiane Hoffmann told reporters Monday in Berlin.
She said the measures would be discussed at a federal and state officials meeting on 16 February but would only take effect when authorities can be sure that Germany's health system won't be overwhelmed.
"According to experts, that could be by mid-to-end February," she said.
Germany has seen a sharp spike in newly confirmed cases due to the Omicron variant in recent weeks.
Pharmacists in the country are scheduled to begin offering vaccinations on Tuesday after parliament changed the rules so that they, but also dentists and vets, could administer the shoots.
About 74.4 % of the German population is fully vaccinated against COVID-19, while 54.3% have additionally had a booster shot.
Experts say higher vaccination rates are needed to protect older and vulnerable groups.
But the governor of Bavaria says he plans not to implement a requirement for staff in nursing homes and medical facilities to be vaccinated, citing concerns about worker shortages.
Germany's health minister Karl Lauterbach blasted the announcement Monday, saying a half-hearted application of the rules "won't just endanger the lives of older people with weak immune systems".
"You will also endanger the credibility of politics," he said.
The federal coalition government has backed a general vaccine mandate, but proposals currently being debated by lawmakers are likely months from being approved into law.
Russia's grim weekend
Russia reported its highest ever daily tally of new COVID cases on Sunday.
A total of 180,071 cases were confirmed by the state Coronavirus Task Force — 2,800 more than recorded the previous day.
The surge observed since mid-January, when just about 17,000 new cases were reported, is being blamed on the spread of the highly contagious Omicron variant.
Yet the daily death toll is holding steady with 661 deaths recorded over the previous 24 hours, compared with 796 on 6 January. The Task Force has so far registered the death of 335,414 people.
President Vladimir Putin said last week that his government is considering loosening some coronavirus restrictions, despite the soaring infections.
In recent weeks, a growing number of Russian regions have started introducing restrictions for those under 18, as officials noted that the current surge affects children much more than the previous ones. Schools have either switched to remote learning or extended holidays for students in many areas.
In St. Petersburg, Russia's second-largest city, minors have been temporarily barred from most public places.
Russia started vaccinating children aged 12-17 last month with the domestically developed Sputnik M or Sputnik Light jab, the same as Sputnik V but contains a smaller dose. According to media reports and social media users, only small amounts of vaccines for teenagers have been made available.
Only about half of Russia's 146-million population has been vaccinated so far, even though the country was among the first in the world to roll out COVID-19 shots.
Austria's vaccine mandate
Meanwhile, a new law making vaccination against COVID-19 compulsory for all residents above 18 years of age has come into effect in Austria.
This unprecedented move from an EU member state means that anyone not abiding by the new law may face a hefty fine from Saturday. Checks are expected to start from mid-March.
Around 72% of Austria's population is fully vaccinated -- a figure below other European countries, like France, Portugal or Spain.
Michael Hausmann, head of operations at Samariterbund, a Vienna-based aid organisation, says his centre is currently "vaccinating about 7000 people a day on average". Hausmann added that they had a slight increase of about 9% compared to last week.
Poland delays mandatory jabs
Meanwhile, Poland's health ministry said on Tuesday that a deadline for essential workers to be vaccinated will be pushed back.
Schoolteachers, medics, police officers, firefighters, and armed forces personnel would have needed to get a COVID-19 jab by March 1.
But Health Ministry spokesman Wojciech Andrusiewicz said the deadline would have to be delayed indefinitely due to the current pace of vaccination in the country.
He added that the vaccine mandate would however remain in force for medical staff.
Poland has registered almost 36,000 new daily cases and almost 290 COVID-19-related deaths, while around 57% of the population of 38 million is fully immunised.
Portugal eases travel rules
Portugal, which has the EU's highest vaccination rate with 83.3% of its entire population now fully vaccinated, will ease restrictions on travellers with an EU health certificate from Monday.
According to the government decision, travellers in "possession of an EU digital COVID certificate" or any other "recognised proof of vaccination" will be exempted from presenting a negative test on arrival in the country.
The EU digital COVID certificate attests to either a vaccine, test or recovery from Covid-19 infection less than six months old.
Like other European countries, Portugal had required that passengers over 12 years old, even if vaccinated against COVID-19, present negative tests to enter the country since the beginning of December.
This new decision by the Portuguese government follows European recommendations to better coordinate rules for travel within the EU and avoid imposing restrictions on holders of a European health certificate, as some countries have done in the face of the emergence of Omicron.
In addition, the period of validity of antigenic tests has been reduced in Portugal from 48 to 24 hours, according to a decision announced in the Council of Ministers on Thursday.
Like most other countries in the world, Portugal is experiencing an outbreak of new infections linked to the Omicron variant. The country reported more than 41,000 infections in 24 hours and 44 deaths on Saturday.
Finnish protests
The Finnish capital Helsinki has been gripped by protests over COVID-19 restrictions and rising fuel prices. The demonstrations that started on Friday rolled into Saturday, and traffic was blocked for several hours in front of the state parliament.
Fifty-five protesters have been detained so far. Organisers say they intend on using civil disobedience tactics.
Denmark is having its first weekend without COVID-19 restrictions. Neither facemasks nor COVID-19 passes are required, and nightlife could kick off again.
For 21 months, the country's nightlife had been shut down, and owners and customers of various venues are enjoying the new freedom again, with clubs, bars, and restaurants reported to be working at full capacity.