'Super typhoon' Rai claims at least 208 lives, leaving devastation behind
Comments
By Euronews with AP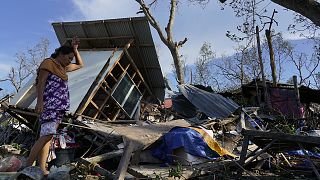 -
Copyright

AP Photo/Jay Labra
The death toll rose to more than 200 following the strongest typhoon to batter the Philippines this year, with 52 people still missing.
Dubbed a 'super typhoon,' Rai blew away Friday night into the South China Sea after rampaging through southern and central island provinces.
More than 300,000 people in its path were evacuated to safety in advance in a pre-emptive move authorities say may have saved a lot of lives.
At its strongest, Rai packed sustained winds of 195 kilometres per hour and gusts of up to 270 kph, one of the most powerful in recent years to hit the disaster-prone Southeast Asian archipelago, which lies between the Pacific Ocean and the South China Sea.
The typhoon slammed into the country's southeastern coast Thursday but the extent of casualties and destruction remained unclear even three days later, and entire provinces are still without power and mobile phone connection.
The National Police said Monday that at least 208 people were killed, 52 remained missing and 239 were injured. The toll was expected to increase because several towns and villages remained out of reach due to downed communications, power outages and clogged roads, although massive clean-up and repair efforts were underway with the improved weather.
Dinagat Islands governor, Arlene Bag-ao, posted a statement on the province's website on Saturday to say that the province of about 180,000 "has been levelled to the ground."
She pleaded for food, water, temporary shelters, fuel, hygiene kits, and medical supplies.
"We may have survived, but we cannot do the same in the coming days because of our limited capacities as an island province," Bag-ao said, adding that some of Dinagat's hospitals could not open due to damage.
"Most of our commercial and cargo vessels are now unsuitable for sea voyages, effectively cutting us off from the rest of the country," the note stated.
Pictures posted on Dinagat's website show low-slung houses with roofs either blown off or damaged and surrounded by tin roof sheets and debris.
Governor of Bohol province in the central Philippines Arthur Yap said Sunday at least 72 people died in the devastation wrought by Rai in more than half of the towns that managed to contact him.
He suggested the fatalities may still considerably increase with only 33 out of 48 mayors able to report back to him due to downed communications.
In statements posted on Facebook, Yap ordered mayors in his province of more than 1.2 million people to invoke their emergency powers to secure food packs for large numbers of people along with drinking water. Both have been urgently sought in several hard-hit towns.
After joining a military aerial survey of typhoon-ravaged towns, Yap said "it is very clear that the damage sustained by Bohol is great and all-encompassing."
President Rodrigo Duterte flew to the region Saturday and promised 2 billion pesos (€35,5 million) in aid. He met officials in Maasin City in Southern Leyte province where he was born.
Duterte's family later relocated to the southern city of Davao, where he served as a longtime mayor before rising to the presidency.
"The moment I was born into this world, I told my mother, `Let's not stay here because this place is really prone to typhoons,'" Duterte told officials.
In October, Duterte said he is backing out of his previously announced plan to run for vice president in next year's elections, claiming he will retire from politics after his term ends.
Duterte, a nationalist-populist, has long been the subject of domestic protests and international investigations over human rights issues and controversial comments, such as his claims that he personally killed criminal suspects as Davao's mayor.
After he took office in 2016, Duterte launched a country-wide crackdown on illegal drugs that left more than 6,000 suspects dead and alarmed Western governments and human rights groups. The International Criminal Court is investigating the killings.
About 20 storms and typhoons batter the Philippines each year. The archipelago is located in the seismically active Pacific "Ring of Fire" region, making it one of the world's most disaster-prone countries.