"The faces of the children have stuck with me": reporting on the Taliban takeover in Afghanistan
Comments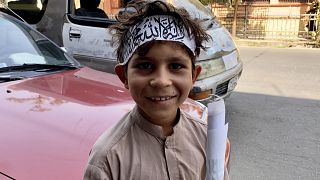 2021 marked the collapse of America's 20-year mission to chase terrorists from Afghanistan – and rebuild the country after decades of war.
"It's the biggest story of the year! Perhaps of the decade!", I heard colleagues say when they praised me for having the courage to cross into Afghanistan days after the Taliban claimed power.
Most Afghans I knew were desperately seeking a way out of the country when I went in. Over the course of two weeks, I was able to get a sense of what the group's return would mean for Afghanistan and its people (the result of my investigation can be found in a special edition of our series Euronews Witness).
But beyond this being the biggest breaking news of my career – and the one with the largest geopolitical implications – this was also my hardest deployment yet.
In a reversal of roles, when reporters work in crisis zones, they often find themselves being asked the tough questions: "What will happen to us?", "What are people saying?", "Will somebody help?".
Afghanistan was no different – mothers and fathers constantly asked me about what kind of future their children would be faced with.
Things were already hard for them before this latest crisis: according to the United Nations Children's Fund, Afghanistan is "the worst place in the world" to be born.
Half of the population is under 18, and children here have been dealt very difficult cards for years now: they face different forms of violence including displacement, forced marriage, honour killings, domestic abuse, and more.
Now that the Taliban returned to power, children in Afghanistan are enduring an extra layer of uncertainty. Nobody quite knows what the next few months will bring and faced with the country's economic collapse, children could end up paying the highest price.
Several international news outlets are reporting that some Afghan parents are selling off their young daughters to help feed their families, for as little as $500.
With winter fast approaching, will children in Afghanistan find shelter? Be given something to eat? Be able to play in safety? Will they be able to continue being children? How long will their contagious, almost magical innocence last?
For me, these are the most daunting questions, ones I don't have an answer to.