Domenico Lucano: Outcry in Italy at 13-year jail term for ex-mayor known for welcoming migrants
Comments
By Euronews with AP, ANSA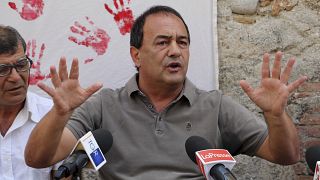 -
Copyright

Luigi Salsini/LaPresse via AP
There has been an outcry in Italy after a former Italian mayor renowned for welcoming and integrating migrants was found guilty by a court of "irregularities in managing asylum seekers".
Domenico "Mimmo" Lucano was also convicted of fraud, embezzlement, criminal association, and abuse of office by the court in Calabria, southern Italy, and handed a lengthy prison sentence.
The former mayor of Riace was sentenced to 13 years and two months in prison on Thursday.
Lucano will also have to repay €500,000 for the funding received from the European Union and the Italian government. After the verdict he was emotional as he spoke to a supportive crowd.
"I can't take it. The streets are full of people who are outraged, they are outraged, they want to write to the Pope, to the President of the Republic, that's what they want to do," he said.
Lucano is a candidate for Sunday's regional elections in Calabria and so is the outgoing mayor of Naples -- who is also outraged over Lucano's sentence.
"I am convinced that in the end Mimmo Lucano will be absolved," said Luigi De Magistris, Mayor of Naples. "(He's) A just man, the antithesis of a criminal, a man who opened his heart and his community to humanity. So I was disturbed by this sentence."
The 63-year-old will remain under house arrest and his lawyers will appeal his sentence, which under Italian law will not take effect until the process is complete.
Prosecutors said that Lucano had facilitated marriages between Italian men in Riace -- dubbed "the town of welcome" -- and foreign women.
But these accusations were withdrawn by the prosecutors before reaching a sentence.
Lucano was also accused of misusing government funds earmarked for helping migrants, including €5 million that prosecutors say ended up in private pockets. The former mayor has denied any wrongdoing.
"I will be stained for life for wrongs I didn't commit,″ Lucano said, according to the Italian news agency ANSA. "I expected a full acquittal, I did not imagine anything like this."
Lucano's lawyers said they will appeal both the conviction and the sentence, which was over five years longer than what the Locri prosecutor's office had requested.
Humanitarian groups said that rescue migrants in the Mediterranean have expressed outrage at the court's decision.
"The former mayor of Riace gave life and future to his city through welcome and solidarity," tweeted Sea Watch Italy.
"We are at the side of Mimmo Lucano and whoever practices solidarity every day."
Many migrants in Riace -- a town of some 1,700 people -- have obtained municipal jobs while Lucano was mayor. Abandoned buildings in the area had been restored with European funds to provide housing for immigrants.
Mediterranea Saving Humans also decried the verdict as "shameful" and "the gravest repressive attack on the culture and the practice of solidarity in our country."
But Thursday's verdict was welcomed by right-wing parties in Italy, who had long criticised Lucano's migrant projects.