Debate over wiggle room of NGOs helping migrants
Comments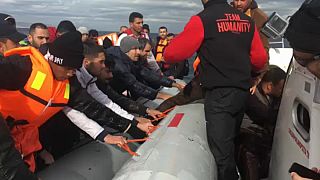 This video showing an almost sunk dinghy was used in court by Salam Aldeen to prove his innocence when he was arrested by Greek authorities in Lesbos two years ago.
The founder of the NGO "Team Humanity" was accused of smuggling people from Turkey to Greece.
He had decided to bring help from his country, Denmark, as coast guards were overwhelmed, he says to Euronews.
"In the beginning, they couldn't handle it. There were so many boats coming, hundreds, 200 boats every day. All the volunteers that came used their time to help. If it was not for them, I don't know how this crisis would have been. It would have been hell".
NGOs fear that their work with irregular migrants will be punished.
Under EU law, member states have to prosecute anyone who "facilitates" the irregular entry, transit or residence of migrants.
It includes also exemptions for "humanitarian" assistance, but this is not mandatory and it differs hugely from country to country. European Parliament is urging the European Commission to harmonize legislation. Jean Lambert, British MEP from the Green explains which are the main concerns.
Jean Lambert, a British MEP from the Greens/ European Free Alliance: "There is this issue about what's in the law, what are the chill factors and how is that interpreted by people. And then for what Parliament is saying, is that we wanted clear guidelines from the Commissions that we are not criminalizing humanitarian assistance"
In the meantime, a mayor of Riace, a small town in southern Italy, was put under house arrest for allegedly favoring illegal migration. The mayor and his partner are accused of having organized arranged marriages between local citizens and immigrant women.
European politicians ask for more support to local authorities, who have to deal directly with the reception of migrants.