Vincent Fichot: EU diplomats show support for French father over Tokyo hunger strike
Comments
By Euronews with AFP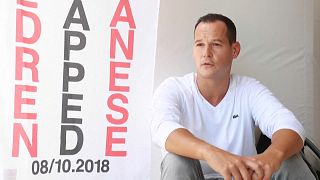 -
Copyright

HARUMI OZAWA / AFPTV / AFP
Ten European diplomats in Tokyo have expressed support for a Frenchman who spent three weeks on a hunger strike.
Vincent Fichot was protesting what he calls the abduction of his two children by his Japanese wife.
He sat outside a train station near the Olympic Stadium demanding help to be reunited with his children. His ex-wife took custody of them after they separated in 2018.
Advisers to the French president Emmanuel Macron met with Fichot earlier this month and raised his case during a meeting with Japanese Prime Minister Yoshihide Suga.
On Friday, European ambassadors to Japan also spoke with the 39-year-old and voiced support for his protest.
"It is a concern that is shared by all [ambassadors] who have nationals in similar situations," said France's ambassador to Japan.
"But whatever the dramatic and painful circumstances in which Mr. Fichot finds himself, we do not want to interfere in a debate that should be a Japanese debate," he added.
The French father stopped his 21-day hunger strike on Friday but wants to continue his "fight" to see his two children.
He was physically weakened by his protest near the Tokyo Olympic Stadium and suffered a fracture of his finger in a fall on Wednesday.
Fichot, a former finance worker who has lived in Japan for 15 years, says he wants to draw attention to the plight of parents who are denied custody or visitation rights with their children in a divorce.
There is no legal provision for joint custody of children in the event of parental separation in Japan, so parental abductions are common and tolerated by the authorities.
There are no official figures, but local associations estimate that 150,000 children are abducted each year by one of their parents in the country.
A judicial investigation into the abduction of Fichot's children was opened in France last year, but the father now says he is also considering a complaint against France in administrative court for failing to protect its citizens.