Ibizagate: Former Austrian vice-chancellor Heinz-Christian Strache faces corruption trial
Comments
By Euronews with AFP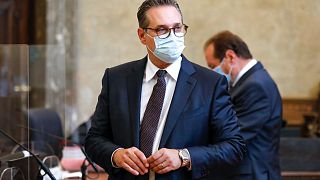 -
Copyright

AP Photo/Lisa Leutner
A former vice-chancellor of Austria is facing a corruption trial, two years after the news of the so-called "Ibizagate" scandal broke.
Heinz-Christian Strache, appeared in a Vienna court on Tuesday, accused of trying to change laws to favour a private hospital in exchange for donations.
The former leader of the extreme-right Austrian Freedom Party (FPÖ), was caught up in a sting while on holiday in Ibiza in 2017.
Ahead of parliamentary elections, he had a drunken meeting there with a woman, who presented herself as the rich niece of a Russian oligarch wishing to invest in Austria.
Strache was offered to help finance his campaign in exchange for a promise to win public tenders if he were to enter the government.
He also discussed the possibility of the woman buying Austria's most-read tabloid, Kronen Zeitung, and changing its editorial line.
The meeting was all caught on a hidden camera, and when excerpts were released to the media in 2019, the scandal brought down Austria's coalition government, of which FPÖ was a part.
Strache has pleaded not guilty to the charges. The former vice-chancellor's legal team said they not would be giving any public statements during the duration of the trial.
A dozen investigations have been opened by the public prosecutor's office as a result of the "Ibizagate" video.
In the video, the former FPÖ leader claimed that billionaires and the Austrian gambling giant Novomatic were illegally financing the political class.
Strache is accused of intervening on behalf of a party donor, who invited him to his yacht and holiday home on the island of Corfu.
Prosecutors say he accepted a €10,000 donation for the favours.
The owner of the private hospital in question, Walter Grubmüller, is also on trial and has denounced the charges as "laughable".
One of the alleged instigators of the video, a private investigator, has been arrested on drug charges.
The trial is expected to last four days, with Strache facing a possible prison sentence ranging from 6 months to 5 years if convicted.
After the collapse of the government, conservative Austrian Chancellor Sebastian Kurz returned to power by forging an unprecedented alliance with the Greens in January 2020.