Florida building collapse: 159 people still unaccounted for
Comments
By Euronews with AP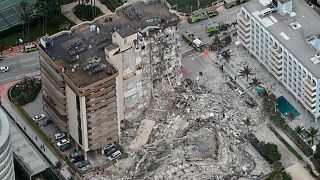 -
Copyright

Amy Beth Bennett /South Florida Sun-Sentinel via AP
Officials say there are still 159 people unaccounted for after the partial collapse of a beachside building in Florida.
Miami-Dade Mayor Daniella Levine Cava noted Friday that rescue officials were still searching for survivors from the condo building collapse in Surfside, saying that a search and rescue mission was ongoing.
A pregnant British woman and her family are among those still missing after the collapse of the 12-storey building on Florida's beachfront.
Bhavna Patel, 38, is currently unaccounted for, along with her 42-year-old husband Vishal Patel, and their one-year-old daughter Aishani Patel, according to local media.
Three bodies were pulled from the rubble overnight, bringing the death toll to four, Miami-Dade Mayor Cava said on "Good Morning America" Friday. Officials feared that number could skyrocket.
Miami-Dade Police Director Freddy Ramirez said they are working with the medical examiner's office to identify the four victims.
The Champlain Towers South in the Miami town of Surfside collapsed early on Thursday morning.
Raide Jadallah, an assistant Miami-Dade County fire chief, said that while listening devices placed on and in the wreckage had picked up no voices, they had detected possible banging noises, giving rescuers hope some are alive. Rescuers were tunneling into the wreckage from below, going through the building's underground parking garage.
Video showed the centre of the building collapse first
Video of the incident appears to show the centre of the building tumble first, followed shortly thereafter by a section closest to the ocean. An enormous plume of dust swallowed the surrounding neighbourhood as the collapse occurred.
The cause of the collapse is not yet clear.
Foreign ministries and consulates of four countries said 22 nationals were missing in the collapse: nine from Argentina, six from Paraguay, four from Venezuela and three from Uruguay.
The Paraguayans included Sophia López Moreira — the sister of first lady Silvana Abdo and sister-in-law of President Mario Abdo Benítez — and her family.
Israeli media said the country's consul general in Miami, Maor Elbaz, believes that 20 citizens of that country are missing.
Also missing was Arnie Notkin, a retired Miami-area elementary school physical education teacher, and his wife, Myriam. They lived on the third floor.
"Everyone's been posting, 'Oh my God, he was my coach,'" said Fortuna Smukler, a friend who turned to Facebook in hopes of finding someone who would report them safe.
Rescue crews working around the clock
Gov. Ron DeSantis, who toured the scene, said television did not capture the scale of what happened.
Rescue crews are "doing everything they can to save lives. That is ongoing, and they're not going to rest," he said.
Teams of 10 to 12 rescuers were entering the rubble at a time with dogs and other equipment, working until they tire from the heavy lifting, then making way for a new team, said Florida Chief Financial Officer Jimmy Patronis, the state's fire marshal.
"They're not going to stop just because of nightfall," Patronis told Miami television station WPLG. "They just may have a different path they pursue."
Patronis said he was deeply moved by the image of a bunk bed near the now-exposed top of the building.
"Somebody was probably sleeping in it," he said. "There's all those what-ifs."
Authorities did not say what may have caused the collapse. On video footage captured from nearby, the center of the building appeared to fall first, with a section nearest the ocean teetering and coming down seconds later as a huge dust cloud swallowed the neighborhood.
Work was being done on the building's roof, but Burkett said he did not see how that could have been the cause.
Miami-Dade County Mayor Daniella Levine Cava said she got a call from President Joe Biden, who offered federal aid. Hotels opened to some of the displaced residents, she said, and deliveries of food, medicine and more were being hastily arranged. Rescue officials tried to determine how many people might be missing and asked residents to check in with them.
Half of building's 130 units affected
About half of the building's roughly 130 units were affected, the mayor told a news conference. Rescuers pulled at least 35 people from the wreckage by mid-morning, and heavy equipment was being brought in to help stabilize the structure to give them more access, Raide Jadallah of Miami-Dade Fire and Rescue said.
The tower has a mix of seasonal and year-round residents, and while the building keeps a log of guests, it does not keep track of when owners are in residence, Burkett said.
Earlier, Burkett said two people were brought to the hospital, one of whom died. He added that 15 families walked out of the building on their own.
The collapse, which appeared to affect one leg of the L-shaped tower, tore away walls and left a number of homes in the still-standing part of the building exposed in what looked like a giant dollhouse. Television footage showed bunk beds, tables and chairs inside. Air conditioners hung from some parts of the building, where wires now dangled.
Piles of rubble and debris surrounded the area, and cars up to two blocks away were coated with a light layer of dust from the debris. As crews went through the rubble around midday, smoke wafted through the area. The source was not clear.
Barry Cohen, 63, said he and his wife were asleep in the building when he first heard what he thought was a crack of thunder. The couple went onto their balcony, then opened the door to the building's hallway to find "a pile of rubble and dust and smoke billowing around."
"I couldn't walk out past my doorway," said Cohen, the former vice mayor of Surfside. "A gaping hole of rubble."
He and his wife made it to the basement and found rising water there. They returned upstairs, screamed for help and were eventually brought to safety by firefighters using a cherry-picker.
Cohen said he raised concerns years ago about whether nearby construction might be causing damage to the building after seeing cracked pavers on the pool deck.
Surfside City Commissioner Eliana Salzhauer told WPLG that the building's county-mandated 40-year recertification process was ongoing. Salzhauer said the process was believed to be proceeding without difficulty. A building inspector was on-site Wednesday.
"I want to know why this happened," Salzhauer said. "That's really the only question. ... And can it happen again? Are any other of our buildings in town in jeopardy?"
At an evacuation site set up in a nearby community center, people who live in buildings neighboring the collapse gathered after being told to flee. Some wept. Some were still dressed in pajamas. Some children tried to sleep on mats spread on the floor.
'It was devastation'
Jennifer Carr was asleep in a neighboring building when she was awakened by a loud boom and her room shook. She thought it was a thunderstorm but checked the weather app on her phone and saw none. The building's fire alarms went off, and she and her family went outside and saw the collapse.
"It was devastation," Carr said. "People were running and screaming."
Nicolas Fernandez waited early Thursday for word on close family friends who lived in the collapsed section of the building.
"Since it happened, I've been calling them nonstop, just trying to ring their cellphones as much as we can to help the rescue to see if they can hear the cellphones," she said.
The seaside condo development was built in 1981 in the southeast corner of Surfside. It had a few two-bedroom units currently on the market, with asking prices of $600,000 to $700,000 in an area with a neighborhood feel that provides a stark contrast to the glitz and bustle of nearby South Beach.
The area has a mix of new and old apartments, houses, condominiums and hotels, with restaurants and stores serving an international combination of residents and tourists. The main oceanside drag is lined with glass-sided, luxury condominium buildings, but more modest houses are on the inland side. Among the neighborhood's residents are snowbirds, Russian immigrants and Orthodox Jewish families.
Patricia Avilez considered spending the night in her brother-in-law's vacant condo on Wednesday but didn't, only to awake to news of the collapse.
"And then I came here, and it's gone," she said. "Everything is disaster."