Vaccination rates need to be faster in Europe this summer, WHO warns
Comments
By Euronews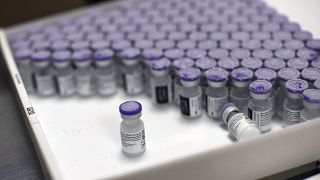 -
Copyright

AP Photo/Francisco Seco, File
Vaccination rates in Europe are still insufficient to prevent a resurgence of COVID-19, the World Health Organization (WHO) has warned.
More than 400 million doses of coronavirus vaccines have been administered across the continent in the last six months.
But the WHO's regional office has repeated calls for vigilance and continued health restrictions amid concern over new variants of the virus.
"Although we've come far, we haven't come far enough," WHO Regional Director for Europe Hans Kluge told a press conference.
"Vaccination coverage is far from sufficient to protect the Region from a resurgence," he added.
So far, around 30% of European adults have received at least one dose of a COVID-19 vaccine, and 17% have been fully vaccinated.
But Kluge warned that vaccination needs to happen "at a much faster rate" this summer to reach the "considerable" target of when at least 80% of the population are inoculated.
"We should also remember that being vaccinated does not automatically stop us from becoming ill or spreading the virus," said Kluge.
"Vaccination does, however, reduce the chance of becoming seriously sick or dying from COVID-19."
The WHO has also recommended that citizens avoid "closed, confined, or crowded" spaces that put citizens at a higher risk of being infected.
"Let's not make the mistake again"
Europe has recorded 55 million confirmed cases of COVID-19, with 1.2 million deaths, since the start of the pandemic. Although there has been a decline in cases and hospitalisations, 368,000 new cases were still reported last week.
A number of European countries have eased restrictions in recent weeks due to the fall in case numbers, but the WHO has reiterated its warning.
"Whilst we should all recognise the progress made across most countries in Europe, we must also acknowledge that we are by no means out of danger," said Kluge.
"COVID-19 notification rates across the Region show that widespread community transmission continues," he added.
Kluge pointed to the summer of 2020, when cases of COVID-19 gradually rose in younger age groups, contributing to a "devastating resurgence" of the virus by the winter.
"We have been here before ... Let's not make that mistake again," the regional director stated on Thursday.
"If we are to avoid another resurgence after the summer, we have to take last year's lessons on board."
"As vaccination coverage increases, we need to stick firmly to protective measures to suppress the virus. A combination of public health measures and vaccination – not one or the other – is the way out of this pandemic."