From Gaza to Nasa - the Palestinian engineer working on the Mars project
Comments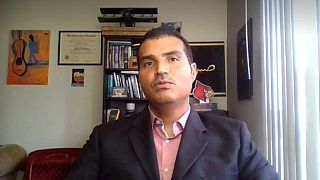 The story of an electronics engineer born in Gaza who grew up to become a key team member on NASA's Mars project has caught the attention of international media.
Palestinian Loay Elbasyouni started life in Beit Haroun near the heavily guarded Israeli frontier.
In 1998 he left to study in the US, eventually leading the engineering team that helped design the Ingenuity helicopter that would end up on the Red planet.
"The greatest moment of happiness was when we took the first flight, " explained Loay. "I was so happy and so proud to be on such a team. My hope since I left Gaza, since I was a kid, was always to start a company that could make a change in the world, and I'm still on that mission, so I don't really see this point as like 'I reached my goals', it's just like another step in my career."
It's been an amazing journey for the 42-year-old from war-torn Gaza. In the United States it may have been less dangerous, but life for still Loay was still far from easy.
"While in the USA I went into a lot of difficulties because the situation got worse in Gaza and I had to work really hard," said Loay. "I worked from 90 to 100 hours a week delivering pizza, or in restaurants, to be able to pay for my two licences and graduating finishing my bachelor degree and my master degree in electrical engineering. And from there I worked a lot building really my career to work in electric vehicles then electric airplanes which got me in to work on the Mars helicopter".
Mars is a long way but so is Gaza
Loay won't be going to Mars anytime soon, but he says a potential expedition to his hometown in the Gaza Strip, where posters celebrate his achievement, feels even farther away because of Israeli and Egyptian restrictions.
The Israeli blockade and resulting permits needed to get in has seen the enclave practically sealed off from outsiders. He says there is also a danger he could get trapped there.
He says his father, who retired as a surgeon in 2012 and now lives in Germany, visited Gaza via Egypt in 2019 and was stuck there for seven months before leaving through Israel.
But his advice for younger people is to believe in their dreams.
"Being part of this project that serves humanity is a source of huge pride," he said.