Suez Canal traffic resumes as giant Ever Given ship fully refloated
Comments
By Euronews with AP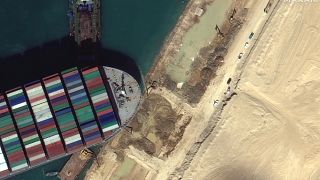 -
The massive container ship stuck in the Suez Canal for nearly a week has been fully refloated, according to the Canal Authority.
Comparable in size to a sky-scraper, the ship ran aground in the canal last Tuesday and has held up €7.6 billion in global trade daily.
Helped by the peak of high tide, a flotilla of tugboats managed to wrench the bow of the Ever Given ship from the canal's sandy bank.
After hauling the fully laden 200,000-tonne vessel over the canal bank, the salvage team was set to pull the vessel towards the Great Bitter Lake, halfway between the north and south end of the canal.
Satellite data from MarineTraffic.com confirmed that the ship was moving away from the shoreline toward the centre of the artery.
It remained unclear when traffic through the canal would return to normal.
At least 367 vessels have piled up on either end of the canal, waiting to pass. Data firm Refinitiv estimated it could take more than 10 days to clear the backlog of ships.
More than two dozen vessels have chosen to take an alternative route between Asia and Europe, travelling around the Cape of Good Hope. The route adds two weeks to these vessels' journeys
The ship was freed after dredgers vacuumed up sand and mud from its bow and 10 tugboats pushed and pulled the vessel for five days, managing to partially refloat it at dawn.