Trump hints at running in 2024 election, says he won't start another party
Comments
By AP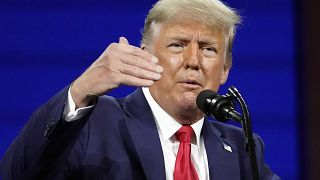 -
Copyright

AP Photo/John Raoux
Taking the stage for the first time since leaving office, former President Donald Trump on Sunday called for Republican Party unity in a speech at a conservative political conference, even as he exacerbated its divisions and made clear he intended to remain a dominant force in the party.
Trump used his speech at the Conservative Political Action Conference, where he has been hailed as a returning hero, to blast his successor, President Joe Biden, and try to cement his status as the party's undisputed leader despite his loss in November.
After implying Biden would lose should he stand for election in 2024, he appeared to repeat unfounded claims he won last year's vote, saying: "Who knows, I may even decide to beat them for a third time."
"Do you miss me yet?" Trump said after taking the stage, where his old rally soundtrack had been playing. "I stand before you today to declare that the incredible journey we began together ... is far from being over."
Though Trump has flirted with the idea of creating a third party, he pledged to remain part of what he called "our beloved party."
"I'm going to continue to fight right by your side. We're not starting new parties," he said. "We have the Republican Party. It's going to be strong and united like never before."
The event so far at a Hyatt hotel in Orlando, Florida, has been a tribute to Trump and Trumpism, complete with a golden statue in his likeness. Speakers, including many potential GOP 2024 hopefuls, have argued the party must embrace the former president and his followers, even after the deadly insurrection at the Capitol on Jan. 6. They stand in opposition to others who argue the party must move in a new, less divisive direction after Republicans lost not only the White House but both chambers of Congress in the last elections.
"The least popular (leaders) in our party are the ones who want to erase Donald Trump and Donald Trump's supporters from our party," said Rep. Jim Banks of Indiana, the chair of the conservative Republican Study Committee, during a Saturday panel discussion. "And let me tell you, if that happens, we won't win back the majority in 2022. We definitely won't win back the White House in 2024 if we erase Donald Trump."
It is highly unusual for past American presidents to publicly criticise their successors so soon after leaving office, as Trump did with Biden at the Florida event. Ex-presidents typically step out of the spotlight for at least a while; Barack Obama was famously seen kitesurfing on vacation after he departed, while George W. Bush said he believed Obama "deserves my silence" and took up painting.