Energy transition cuts costs by making the most of local resources
Comments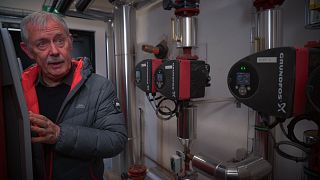 The commune of Venizy in the Bourgogne region of France has managed to more than halve its heating costs by switching to waste wood as a source of energy.
The mayor of Venizy, Sylvain Quoirin, says the wood being used would otherwise have gone to waste.
"I was totally aware that this heating system based on chipped wood, would allow us to halve the operating costs," he says.
"The other positive aspect of this heating system is that the wood that is shredded comes from oak heads that generally, are difficult to exploit, because they are twisted branches and so on. These part of the trees are recovered by our organization which crushes them, and all that also participates in the maintenance of the forest. "
He said the project had attracted attention from other local authorities.
"Since we did this installation, we've been regularly visited by colleagues from other municipalities. This kind of project is quite affordable for small villages. Obviously, urban municipalities are too big for this solution, but many rural communities that heat themselves with fuel can consider this system "