EU's rift with Russia caused by membership of Baltic countries, Lavrov says
Comments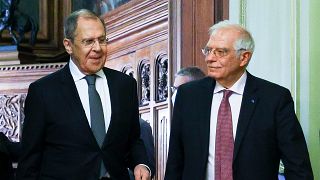 Russia's foreign minister Sergey Lavrov suggested his country must "prepare for war" if it wants peaceful relations with the European Union as the 27-nation bloc considers economic sanctions.
Lavrov said the EU was Russia's largest trading and investment partner, but that his country needed to be prepared in case "sanctions are imposed in some areas that create risks for our economy, including in the most sensitive areas".
He also suggested the EU's decision to admit Baltic and Eastern European members 15 years ago had contributed to the bloc's poor relationship with Russia.
The minister was asked in the interview, released by the Soloviev Live YouTube channel on Friday, whether Russia was heading for a "break" with the European Union.
"We proceed from the assumption that we are ready [for that]," Lavrov replied, according to a transcript released by the Russian Foreign Ministry.
"We do not want to isolate ourselves from world life, but we must be ready for this. If you want peace, prepare for war."
A spokesperson for Germany's Foreign Ministry said the remarks were "really disconcerting and incomprehensible".
European and Russian officials have been exchanging strong words since last week's visit to Moscow by Josep Borrell, the EU's foreign policy chief.
During the trip, he called for the release of Alexei Navalny, the jailed Russian opposition leader.
But Lavrov said the difficulties between Russia and the EU predated Borrell's visit.
"All the problems between us and the European Union started a very long time ago, and they have been essentially wearing out our patience and goodwill," he said.
"When in 2004, the European Union accepted the Baltics and other Eastern European countries, frankly, we asked them - are you sure they are mature enough to be members of your progressive alliance?"
Russia was told these countries' "phobias" would be overcome once they joined the EU and NATO, Lavrov suggested.
The biggest enlargement in the EU's history took place in 2004 when it admitted 10 new member countries, including seven former Soviet or Eastern Bloc states.
After his visit to Moscow Borrell told the European Parliament that the EU must take a firm stance in its relations with Russia, pointing to ongoing conflicts in Ukraine, Belarus and the southern Caucasus.
"It will be for the member states to decide the next step, but yes, this could include sanctions. And I will put forward concrete proposals, using the right of initiative the high representative has," Borrell told EU lawmakers on Tuesday.
A spokesperson for the German Foreign Ministry said on Friday: "I can only say that from our point of view, or for us, these statements are really disconcerting and incomprehensible."
"We refer to Foreign Minister Maas' speech in the Bundestag, in which he clearly stated our [grievances] towards Russia. But he also said that we are interested in cooperation with Russia. In this respect, Foreign Minister Lavrov's statements today are really disconcerting."