Myanmar coup: Tensions rise between protesters and police
Comments
By Euronews with AP, AFP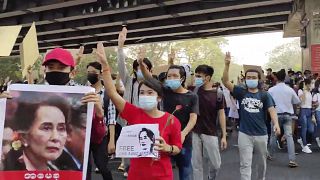 -
Tensions in the confrontations between the authorities and demonstrators against last week's coup in Myanmar boiled over on Monday, as police fired a water cannon at peaceful protesters in the capital Naypyitaw.
On Sunday, in the town of Myawaddy on Myanmar's eastern border with Thailand, police shot into the air in an evident effort to disperse a rowdy crowd. There had been no initial reports of injuries, but the Assistance Association for Political Prisoners, an independent watchdog group, said one woman had been shot, without providing further details.
There have been no signs that either protesters or the military was backing down in their confrontation over who is the country's legitimate government: Aung San Suu Kyi's National League for Democracy party, which won a landslide victory in last November's election, or the junta that formed one week ago and which claims the polls were marred by voting fraud.
Tens of thousands of people rallied against the military takeover in Myanmar's biggest city Yangon for the second day running on Sunday.
As the enthusiastic crowd marched through the streets, their spirits were lifted by the return of internet services that had been blocked a day earlier.
They demanded the release of Aung San Suu Kyi, whose elected government was toppled by the army that also imposed an internet blackout.
Protest crowds have grown bigger and bolder since the February 1 coup, while remaining nonviolent in support of a call by Suu Kyi's party and its allies for civil disobedience.
In Yangon people tried to gather in front of the city hall, but access to the area was blocked off by barricades. Several groups marched in the city where riot police were deployed in large numbers. No clashes were reported.
Union activists, students and others numbering at least 2,000 according to AP chanted "Long live Mother Suu" and "Down with military dictatorship" at a major intersection near Yangon University. They marched along a main road, snarling traffic. Drivers honked their horns in support.
There too, police in riot gear blocked the main entrance to the university. Two water cannon trucks were parked nearby.
The protesters held placards calling for freedom for Suu Kyi and President Win Myint, who were put under house arrest and charged with minor offences, seen by many as providing a legal veneer for their detention.
Despite fear of repression in a country used to bloody crackdowns by the military such as those in 1988 and 2007, people took to the streets early in the morning, some banging saucepans in a show of defiance.
Another gathering took place in the city of Mandalay. "We can't accept this totally illegal coup d'état," regional politician Win Mya Mya told AFP.
Internet access restored after near-total blackout
On Sunday afternoon, internet users in Yangon reported that data access on their mobile phones had suddenly been restored.
Authorities had cut access as the protests grew on Saturday, making Twitter and Instagram inaccessible and fanning fears of a complete information blackout. Facebook had already been blocked earlier in the week — though not completely effectively.
Earlier on Sunday, despite the army's order to block the internet and social media, the demonstration in Yangon was streamed live on Facebook, bringing messages of support such as "you are our heroes" and "respect the protesters".
During the communication shutdown, the internet was only operating at "14% of its usual level" with outages affecting the whole country, said Netblocks, a specialist NGO based in London.
"The generals are now attempting to paralyse the citizen movement of resistance -- and keep the outside world in the dark -- by cutting virtually all internet access," said Tom Andrews, UN special rapporteur on human rights in Myanmar.
More arrests have been reported, with over 160 people detained according to a campaign group for political prisoners, based in Yangon.
Those held include Sean Turnell, an Australian economic adviser to Aung San Suu Kyi, in what looks like the first arrest of a foreigner in Myanmar. The 75-year-old economist from Macquarie University said he feared being "accused of something" but was "not guilty of anything".
The U.S. Embassy called on the military to give up power and restore the democratically elected government, release those detained, lift all telecommunications restrictions, and refrain from violence.
"We support the right of the people of Myanmar to protest in support of the democratically elected government and their right to freely access information," it said in a tweet.
Memories of dark era revived
The coup plunged the nation back under direct military rule after a nearly decade-long move toward greater openness and democracy. During Myanmar's previous five decades under army control, the country was internationally isolated and communication with the outside world strictly controlled.
Suu Kyi's five years as leader since 2015 had been Myanmar's most democratic period despite the military retaining broad powers the continued use of repressive colonial-era laws and the persecution of minority Rohingya Muslims.
Nearly 300 elected lawmakers from Suu Kyi's National League for Democracy party were supposed to have taken their seats last Monday in a new session of Parliament following November elections when the military announced it was taking power for a year.
The military accused Suu Kyi and her party of failing to act on its complaints that last the election was marred by fraud, though the election commission said it had no found no evidence to support the claims.
The lawmakers met in an online meeting Friday to declare themselves as the sole legitimate representatives of the people and asked for international recognition as the country's government.
U.N. Secretary-General Antonio Guterres pledged the United Nations will do everything it can to unite the international community and create conditions for the military coup in Myanmar to be reversed.