Meet the aid workers helping migrants stuck in Bosnia and Herzegovina
Comments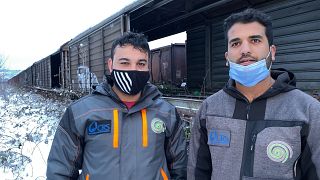 -
Ali Sheyran and Tamer Albadarin working for the Tuzla-based Catholic Relief Services CRS and Puz Center. Euronews came across them on the outskirts of Tuzla whilst they were distributing sleeping bags to Pakistani migrants sleeping in abandoned freight wagons in temperatures dropping below zero. They explained how they support migrants here.
What they do
Ali Sheyran:
"We are bringing, to people on the move, blankets, shoes, socks and boxers, stuff like that which they need in winter. So we come here every day to bring them food and everything, whatever we have in donations, we bring them".
Tamer Albadarin:
"You see the situation here, the people have nothing. It is so cold for them. We take care of them".
Ali Sheyran:
"There are many other organisations, so sometimes they bring and so sometimes we come. So now we decided to come every day here and help people".
Situation on the ground
Tamer Albadarin:
"You can see by yourself. It is so bad for them. It is very cold, people have no electricity, no water to get a shower, no food. They come here in transit, in Tuzla, they stay about 15 or 20 days, some of them stay here a month. And when they arrive they have nothing, no money, no clothes. How to say, it is not a human situation, see by yourself".
Ali Sheyran:
"It is absolutely hard to stay here. I can not imagine how they are sleeping here. I can't stay here ten minutes. It is pretty hard to stay here and they really need help. The European Union must think about this".
Tamer Albadarin:
"But we do what we can. We come here every day, we give them some food, clothes, get warm and if someone needs medical help, here we have a medical person to give them what they need".
Ali Sheyran:
"We are thinking to open a shower center where they can take a shower every day so that they can take care of their hygiene. They will get a brush, toothpaste, shampoo. It will start pretty soon".