How can we resolve the migration mismanagement in Bosnia and Herzegovina?
Comments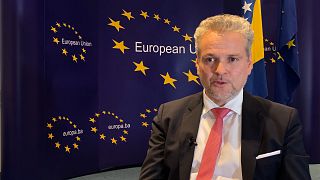 -
Thousands of migrants are stuck in Bosnia and Herzegovina, desperately trying to get into the EU. But with external land borders to the EU closed, their attempts have come to no avail. Conditions for migrants in the country are bad especially during winter where many of them sleep in make-shift accommodation and abandoned buildings. Euronews spoke to the European Union Special Representative in Bosnia and Herzegovina, Johann Sattler, in Sarajevo to discuss the migration mismanagement in the region.
What should be done to avoid a repetition of the humanitarian crisis we saw just recently?
Johann Sattler:
"Two things need to happen, one is to save lives. We still have about 400 people out there in the woods around Bihac. We need to save them and find a warm shelter for them. We managed to get 1000 people over the last two weeks into these heated tents. Now we need to save the remainder of the 300-400 people still out there. Secondly, and very importantly, we need to find a political solution. The political leaders of this country need to get together and find a fairer, distribution sharing. At the moment we have two places, Bihac and Sarajevo, bearing all the brunt of the migration in this country. It's not fair, we need to have a broader base, more centres. This would allow us to have fewer people in the centres. We have now 3000 or 4000 people in some of the centers and this obviously leads to security problems. When it comes to migration, however, this is not rocket science: We speak about 8000 or 9000 people and there must be a way to find a solution between the political leaders to distribute the migrants more evenly across the country".
Should we swap the model of big camps and try to multiply small local structures instead? This cannot be done when local protesters block it. It happens that decisions are taken on a federal level, but not implemented on a local level.
"Where do the local protesters come from? They come from a situation like in Bihac where you have a lot of migrants at one place in the centres of the cities. This is the problem. Let me give you an example: One of the neighboring countries, Serbia, has put in place a system which is not perfect, but which is much better because they have some 20 or 25 centers. They have about the same number of migrants, about 8000 or 9000, but they are spread better all over the whole country and this makes the big difference".
The EU is heavily financing migration management in Bosnia and Herzegovina. There's a fully equipped camp in Bihac. We saw it, we saw the empty containers, the nice stickers and it's paid by the EU. It's empty whilst people are on the street. Isn't that a little crazy?
"This is the whole absurdity of the situation. This is a kind of luxury problem. In many countries, in Africa, in the Middle East, humanitarian organisations have to withdraw because they do not have funds to support camp structures. Here we have enough money. We have camps, as you say, ready to host migrants. This Bira camp has a capacity of 2000 people. It is not being used because the local leadership there decided to close it down, on their own. This is not their competence, this is the competence of the State, anyway they did it".
What should be done in the long term so that this situation doesn't repeat itself?
"You are exactly right, this is now the second time we have this huge crisis, last year we also had a terrible situation, it was around the same time of the year. This year we have the problem with the Lipa camp. What needs to happen is that we have a political understanding and agreement that this is a task for the whole country, this is a task not for only two rather small cantons. This is a task for the whole country. It cannot be that one part, The Republika Srpska, for instance, 49% of the territory is not chipping in, has not one migrant camp on its territory. This needs to change. For this, we need to have a political agreement. I told the leaders here: 'You don't want to have this to repeat every year? Apart from the humanitarian aspect, there is also a reputational aspect for the country. You don't want to have this situation every year. So you need to work on that and find a solution'".
Do you expect Bosnia and Herzegovina will sign further readmission agreements with other countries? It signed one with Pakistan, a few months ago. Is there any information you could share with us on this specific point? Will there be further readmission agreements?
"This was the talk I had with the Minister of Security (of Bosnia and Herzegovina) recently. They are currently negotiating with one country in northern Africa, also a country of origin. They are also negotiating with Afghanistan, that's also a major country of origin of migrants arriving here in Bosnia and Herzegovina on the Balkans Route. So we encourage the Bosnian leadership to pursue that".
What must change for the European Union to be in control of the external border?
"Migration is a very complex topic. The European Commission put forward the migration pact, this is a proposal which is now being discussed in the European Parliament and also in the European Council. What needs to happen is a number of things: We need to have solidarity and responsibility on one hand and, of course, we are in need of speeding up the asylum procedures. It cannot be that you wait for years for the outcome of the asylum procedure. What we also need to do is to work with the countries of origin where the migrants come from. There is a need to work at the root causes of migration. And lastly we also need to support those countries which are on the migration routes, like Bosnia and Herzegovina and that's what we do here on a daily basis".
What are you doing to support neighboring countries, such as Bosnia and Herzegovina, so they can proceed in a way that contributes to finding a solution?
"There are two things we concentrate our help on. We spend around 20 million euros per year on migration in Bosnia and Herzegovina. The one component: We house and feed the migrants. So this is obviously a big part of our support. We have, every day, 20 000 meals which we prepare for these people. There is also the medical aid we provide. This is the one part. But the other very important part is to work on the capacities, capacity building for Bosnia and Herzegovina. So we support for instance the Ministry of Security, we support the border police. This is a very important part of the equation because we want Bosnia and Herzegovina to be in a position to handle the problem itself. What we do now, we stepped in because there were no camps, three years ago, when this started. There was nothing, there were no capacities, no camps. Now we have five or six camps – not enough, because it needs to spread further, we need to have smaller camps, but we came a few steps forward".