Norway landslide: Seven bodies recovered as hunt for survivors is briefly paused
Comments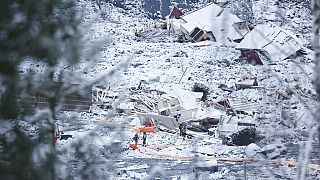 -
Copyright

Tor Erik Schroeder/AP
Norwegian rescue teams have temporarily paused a search for survivors among the landslide rubble in a village northeast of Oslo.
Seven bodies have so far been recovered - six days after the slip - while three people are said to still be missing.
Up to 1,500 people may also need to be relocated following one of the biggest landslides in the country's history.
Norway's royal family have offered their condolences to the families of the victims, with Queen Sonia also praising emergency services: "People are united in their determination to search in terrible conditions. Their efforts have touched us deeply."
As rescue efforts got underway last week, police published the names and birth years of the 10 people initially reported missing, which included a 2-year-old child.
The displaced earth swept through the village of Ask, northeast of Oslo cutting across a road through the village, leaving a deep ravine resembling a crater.
Over 1,000 people have already been evacuated, and hope of finding anymore survivors is waning.
Questions have also been raised as to why construction was authorised for so many homes on a stretch of land which was known since 2005 to consist of unstable clay.
The search teams include helicopters, drones and heat-seeking equipment, and have been deployed amid hopes that survivors may remain in air pockets inside the destroyed buildings.
However, the rescue operation is being hampered by limited daylight hours here, and hope is running out fast.