Norway landslide: Fresh evacuations after more unstable ground found as hunt for survivors continues
Comments
By Euronews with AP, AFP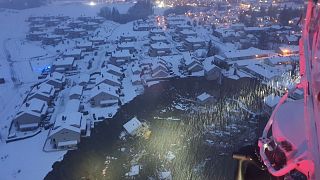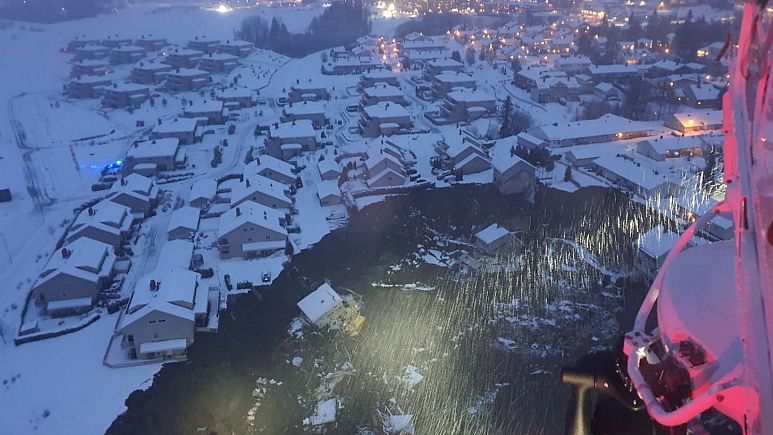 -
Copyright

Twitter - 330-skvadronen / Hovedredningssentralen
Dozens more people have been evacuated in the Norwegian village of Ask, which was hit by an enormous landslide overnight on Wednesday. 
At least ten people remain missing as rescue efforts continue. 
On Thursday, authorities said they had discovered fresh "uncertain ground" two kilometres from the village. 
As a result, 46 people have been evacuated. 
Police said the discovery is not detracting from their ongoing rescue operation.
"The search is still a rescue operation. We hope to find people alive," police task leader Dag Andre Sylju told NRK on Thursday morning. "The landslide is still in motion, there are still buildings that are completely on the edge."
For safety reasons, much of the search is being conducted in the air by drones and helicopters fitted with heat-sensing cameras, which have helped to locate residents still stuck in the area.
Local authorities have also introduced a ban on setting off New Year fireworks within a one-kilometre radius of the landslide site.
A total of ten people were injured when the slide initially hit the village, one of whom is said to be critical and was flown to Ullevål for further treatment. Four were transported to Ahus by ambulance and five were treated locally.
Thirty-one housing units and nine buildings also collapsed, according to NRK, while 900 people have so far been evacuated. Gjerdrum mayor Anders Østensen estimated the number evacuees will likely rise to 1,500 as more danger areas are found.
After meeting with the families of those still missing, Østensen recalled to the media how "scared and anxious" they had been about finding their relatives alive.
"They are very scared and anxious about what the outcome will be," he said. "The hope is that they are either found alive, or that they stay somewhere other than the landslide area."
"It hurts to see how the forces of nature have ravaged Gjerdrum," Norwegian Prime Minister Erna Solberg tweeted on Wednesday.
"My thoughts go to all those affected by the landslide. Now it is important that the emergency services get their job done."
The area around the village of Ask is known for so-called quick clay, and landslides have previously been reported in the region.