British diplomat praised for saving drowning woman in southwestern China
Comments
By Associated Press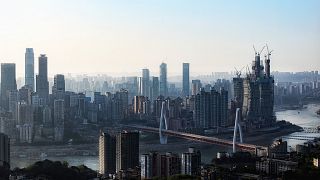 -
A British diplomat is being praised for jumping into a stream and saving a drowning woman in southwestern China.
Stephen Ellison, who is the British consul general in the city of Chongqing, rescued the woman after she fell into the water in a nearby village.
"We are all immensely proud of our Chongqing Consul General, Stephen Ellison, who dived into a river on Saturday to rescue a drowning student and swim her to safety," the British Embassy in Beijing said in a tweet on Tuesday.
The Embassy shared a TikTok video from an onlooker, which shows a woman drifting face-down in the water as onlookers cry in panic before the diplomat takes off his shoes and swims to her aid fully-clothed.
A lifebelt is then tossed into the river, as people on the bank to help pull Stephen Ellison and the woman, who appeared to be unconscious, to safety.
The health condition of the woman in the video is not yet known.
Chinese foreign ministry spokesperson Zhao Lijian has also praised the UK diplomat for his actions at a daily news briefing on Tuesday.
"His bravery is commendable, and I would like to give him a big compliment," said the spokesperson.
UK Foreign Minister Dominic Raab also tweeted that he was "very proud" of his country's diplomat.
"His bravery and commitment demonstrates the very best of British diplomats around the world," said Raab.
The social media footage of the incident has also gone viral, with many users also praising the rescue.
"We welcome this type of foreigner, saving lives really has no borders," read one comment on the WeChat messaging forum.
China-Britain relations have been under strain in recent months over trade disputes, and the UK's condemnation of China's decision to impose a new national security law to quell pro-democracy protests in Hong Kong.