Euronews Debates: Why tackling global health is everyone's business
Comments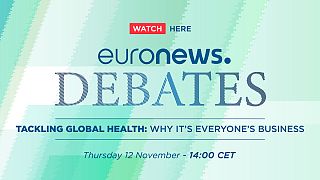 The health and wellbeing of global populations are in the spotlight like never before.
While countries battle to stem the spread of the coronavirus pandemic, they also face a wider crisis: the rise of conditions like obesity and diabetes, which can lead to other illnesses and disease.
The devastating impact of poor health on individuals is obvious, but there's also a huge economic and social price to pay for sick nations. The European Union is looking for a prescription.
Efforts are underway right now, for instance, to come up with a cancer-busting plan for the bloc. But how will it be realised?
Reversing the world's health fortunes relies on both governments and industry. Are they waking up to the mammoth task in front of them? Who's leading the way? How can they work together and get consumers on board? Where's the balance between nudging and nannying? And how realistic are their ambitions?
Our Euronews live virtual debate put these questions and more to some of the key thinkers, influencers and decision-makers in Europe. (You can watch the full debate in the video player above).
How has COVID-19 changed our attitudes towards global health?
"I think we've all had a wakeup call that we have a collective responsibility, whether it be governments, businesses, individuals, public health, and to help find solutions," said Moira Gilchrist, Strategic and scientific communications, Philip Morris International.
"I think we've all had to look at our own personal behaviour in the light of decisions that we're making each and every day. And I think some of the decision making processes we've had to go through because of COVID-19 could have long term and long lasting benefits to society. " She concluded.
'Slow pandemics': who is responsible for treating them?
Stephan Sigrist, founder and head of The W.I.R.E think tank, said that the impacts of non-communicable-diseases (NCD's) such as obesity and lung or heart disease are far greater than the coronavirus pandemic. He coined these diseases as 'slow pandemics' and said these aren't as simple to treat because they require a behavioural change.
"If we look at the consequences of smoking alone, there are 1.3 billion people still smoking. Eight million people dying every year," revealed Sigrist.
"You may be very aware about the health effects of poor diet or smoking, but if you enjoy the activity, you kind of sometimes compartmentalise that risk, that danger, and somehow try and make up for it by other means, by maybe doing a little bit of exercise here or there," said Gilchrist.
Nudge or nanny?
While COVID-19 has proven that individual behavioural changes can make a collective impact by reducing the spread of the virus, tackling preventative diseases such as obesity, and lung and heart disease aren't so straight-forward.
After months of being told what to do by our governments, health care professionals and scientists, can the same method be applied to tackling these so-called 'slow pandemics' or do we need a softer approach?
Gilchrist warned that "we can't force people in a liberal democracy into behaviours, but what we can do is encourage them to make better choices more."
Christian Schwab, president of the executive committee, Swiss Food & Nutrition Valley, agreed, stating: "It's all about, creating the conducive environment for behaviours to evolve."
Kasper Wyss, Deputy Director, Swiss Tropical & Public Health Institute, said it's about "seeing people not as a passive person who is guided by a physician or nurse or whomever, but rather as active individuals who shape their well-being themselves or have at least an important role in that." He cited diabetes as an example: "Diabetes is also a disease which is to be managed by those concerned directly and not only by the physician or the treating person. So that's definitely an important aspect of making people responsible and and responsive."
Sigrist added, if there's another lesson learned from the pandemic, it's about cross-border collaboration: "I really think we need to think about how to strengthen trust and build up something like an information ecosystem or an information architecture, which is on the one hand, dependent on a global perspective."
Information overload
According to Sigrist,"many people trust their neighbours or their social network partners more than they do some kind of expert."
Information changes daily on the coronavirus situation, and many feel overwhelmed and bombarded with what they should and shouldn't do. "It's a wake up call for experts, for scientists, for the government that we need to find ways to actually address people and to bring information to a level where they can digest it," he said.
Gilchrist agreed, stating: "Coronavirus has really shown us the importance of measured information. It's shown us the importance of credible spokespeople who the public can trust."
Sigrist concluded, "I think we need to define in the bigger picture a vision of what quality of life actually means. And I think we don't have that at the moment."
Meet our panel