Vienna attack live updates: No evidence of second gunman, minister says
Comments
By Euronews with AP, AFP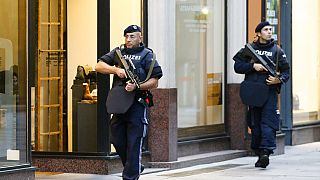 -
Copyright

Ronald Zak/Copyright 2020 The Associated Press. All rights reserved
Four people were killed and dozens injured after a gunman brought havoc to the streets of the Austrian capital of Vienna on Monday night, just hours before the start of a coronavirus lockdown.
Authorities initially feared that several gunmen had taken part in the attack but Interior Minister Karl Nehammer told reporters on Tuesday afternoon that evidence gathered thus far shows no indication that there was a second attacker.
The gunman was killed but several others were believed to be on the run, sparking a city-wide manhunt and prompting authorities to warn residents to stay in their homes.
The attacks came as Viennese were out in restaurants and bars enjoying the last night before the beginning of a partial lockdown to stop the spread of COVID-19.
Euronews has the full story on the attacks here and you can follow below for live updates.
11.03.2020
19:37
We're now bringing our live blog to a close. Thank you for joining us as we brought you all the latest developments from Vienna following last night's terror attack.

Here are the main details so far:
​Five people - four victims and the attacker - were killed in the attack in the Austrian capital;
Some 22 others were injured, some "seriously," including a police officer;
Chancellor Sebastian Kurz confirmed this morning that the incident was an "Islamist terror attack";
The suspect was identified as Kujtim Fejzulai, a 22-year-old dual Austrian-North Macedonian national who had tried to enter Syria to join Islamic State in 2019;
Police have arrested 14 people in connection with the attack, according to Austria's Interior Minister.
11.03.2020
17:40
One of the four people killed in Monday's attack was a German national, Heiko Maas has confirmed on Twitter.
The German Foreign Minister also expressed his condolences to the families and friends of all the victims.
"With the people in Vienna and Austria, we share the grief for the victims, but also the determination to counter fanaticism and terror with all our might," he added.
11.03.2020
16:44
"Hatred can never be as strong as our community in freedom, in democracy, in tolerance, and in love," Austrian President Alexander Van Der Bellen said during an address the nation.
"The attack was obviously aimed at everyone who values life in a free society.
"We will not let this hatred infect us. We will protect ourself and our values," he added.
He also praised law enforcement officers and emergency workers "who give their utmost in times of great stress" and thanked the international community "that stands united and in solidarity with Austria in the difficult hours."
11.03.2020
15:40
The suspect was identified as Kujtim Fejzulai, authorities have said.
He had previously served time in prison following an April 2019 conviction for an attempt to travel to Syria to join the so-called Islamic State.
He was granted early release from his 22-month jail term in December under juvenile law. 
11.03.2020
14:48
Austria's Interior Minister Karl Nehammer has revealed that 14 people have been arrested over the attack.
He added that evidence gathered so far shows no indication that there was a second attacker.
11.03.2020
13:50
Luigi di Maio, Italy's foreign minister, has called for a "European Patriot Act" in response to the recent terror attacks in Austria and France.
In
a Facebook post
, Di Maio called for tighter checks in mosques and increased surveillance of "illegal migration."
"Defending our borders is the duty of every state, as well as a right. The right of every citizen to feel safe in their own home. We have an obligation to guarantee its right," he wrote.
"We reiterate our proximity to the Austrian and French people in this great moment of pain.
"Let's stand united against all forms of terrorism and bigotry," he added.