Coronavirus: France unveils 'historic' €100 billion stimulus plan to kickstart sick economy
Comments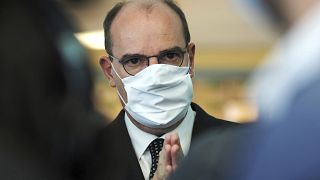 -
Copyright

Guillaume Souvant, Pool via AP
The French government on Thursday unveiled a €100 billion stimulus package to kickstart its economy hit hard by the global COVID-19 health crisis.
Prime Minister Jean Castex claimed the revival plan had "historic ambition and scope".
"In proportion to the national wealth, it is the most massive recovery plan announced to date among the major European countries," he said.
He added that €100 billion was the amount needed "to regain our pre-crisis level of wealth by 2022" and that "the absolute priority is employment".
Ecology, competitiveness and employment
The funds are to be divvied up along three major axes:
€30 billion for the move to a greener economy, with money earmarked to renovate buildings to be more energy-efficient, to boost investments in environmentally friendly industries and decarbonise the economy;
€35 billion to boost companies' competitiveness through a €20 billion reduction in taxes on production and funds to help companies in strategic sectors scale-up and/or relocate;
€35 billion for social and territorial cohesion to boost youth employment and training.
Earlier in the day, Castex told RTL radio the government hoped the package will create 160,000 jobs in 2021.
EU funds and public debt
The Prime Minister highlighted that 40% of the stimulus package will be provided by the European Union's €750 billion Recovery Fund agreed in July following marathon talks between leaders.
The remaining €60 billion will come from the state coffers and the Banque Publique d'Investissement — a publicly-funded investment bank.
Castex reiterated that the government has ruled out raising taxes on households and businesses which would "weaken growth" and that the stimulus package would therefore see the country's public debt increase.
But the government, he said, expected "a very quick return on investment".
"If it (the stimulus package) achieves its objective of reactivating activity, its impact on our debt ratio will be almost entirely absorbed by 2025."
"The worst option for our public finances would have been precisely not to make a recovery plan, to let the economy go under," he argued.
"It is infinitely preferable economically and socially to temporarily downgrade public finances rather than sink into austerity," he added.
GDP to shrink 10.8% in 2020
Growth in France contracted by a massive 13.8% in the second quarter. The economy had already shrunk by 5.8% in the first three months of the year.
The Bank of France estimates that GDP will contract 10.3% this year because of the COVID-19 pandemic and its impact on the economy. It expects the economy to rebound by nearly 7% and 4% in 2021 and 2022 respectively.
"This apparent strong rebound will not allow activity to return to levels observed at the end of 2019 until mid-2022. 2021 and 2022 would therefore be years if clear but gradual recovery," the Bank stressed.
The French stimulus package will need to be approved by Brussels and capitals around the EU.