Russia becomes first country to register a coronavirus vaccine, but testing reportedly incomplete
Comments
By Euronews with AP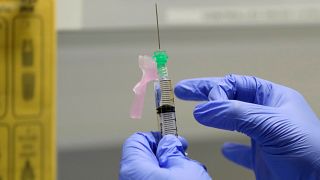 -
Russia has become the first country in the world to register a coronavirus vaccine for use.
Vladimir Putin, the country's president, announced one of his daughters has already been inoculated.
The move comes despite many scientists in Russia and abroad questioning the decision to make the vaccine available for use before Phase 3 trials, which normally last for months and involve thousands of people.
Speaking at a government meeting on Tuesday, Putin said that the vaccine has proven efficient during tests, offering a lasting immunity from the coronavirus.
Putin said that his daughter had a temperature of 38 degrees Celsius on the day of the first vaccine injection, and then it dropped to just over 37C on the following day.
After the second shot she again had a slight increase in temperature.
"She's feeling well and has a high number of antibodies," Putin added. He didn't specify which of his two daughters received the vaccine.
The Health Ministry said in a statement on Tuesday that the vaccine is expected to provide immunity from the coronavirus for up to two years.
Russian authorities have said that medical workers, teachers and other risk groups will be the first to be inoculated.
Deputy Prime Minister Tatyana Golikova said that the vaccination of doctors could start as early as this month.
Large-scale production of the vaccine will start in September, and mass vaccination may begin as early as October, officials said.
"The real concern is we know nothing about phase one studies how many people, we know nothing about phase two studies, how many people," said Barry Bloom, a public health professor at Harvard University, who explained that there are many doubts that the Russians completed a third phase trial of the vaccine to test safety and efficacy.
Speaking at a Harvard press conference, he said: "It's very hard to take this seriously unless they've used it in massive numbers of people and actually have the data."
But he added that the vaccine approved in Russia is similar to ones tested in other parts of the world, using strains of an adenovirus, one of which many people already have antibodies for because it can cause the common cold.
AFP reports a World Health Organization (WHO) spokesperson responded to the news by pointing out that licencing a vaccine required "rigorous procedures".
"Pre-qualification includes the review and evaluation of all the required safety and efficacy data from clinical trials," said Tarik Jasarevic at a news conference, stressing that the process would be the same for any vaccine candidate.
Russia has not published a detailed study of the results of its trials to establish the efficacy of the products it says it has developed.
Last week the WHO was sceptical when Russia said its vaccine was almost ready, saying it had seen "nothing official", and that pharmaceutical products must "undergo all the different trials and tests before being licensed for deployment".
Professor Alexander Gintsburg, head of the Gamaleya institute that developed the vaccine, raised eyebrows in May when he said that he and other researchers tried the vaccine on themselves.
Human studies started on June 17 among 76 volunteers. Half were injected with a vaccine in liquid form and the other half with a vaccine that came as soluble powder. Some in the first half were recruited from the military, which raised concerns that servicemen may have been pressured to participate.
Amid Russia's rush to become the first to create a vaccine, the US, Britain and Canada last month accused Russia of using hackers to steal vaccine research from Western labs.
Despite not completing Phase 3 trials, Putin insisted the vaccine has undergone the necessary tests.