Two Lebanese ministers resign amid protests after deadly Beirut blast
Comments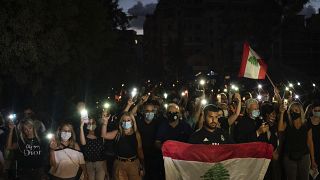 -
Copyright

Felipe Dana/AP
Lebanon's environment minister Kattar Demianos and information minister Manal Abdel Samad both resigned on Sunday amid protests following the explosion that killed over 150 people in capital Beirut on Tuesday.
Demianos said he was leaving in solidarity with the victims while Manal Abdel Samad said in a brief televised address that she apologised that leaders were "unable to meet their expectations."
The resignations come as anti-government protesters stormed Lebanese government buildings on Saturday evening, including the foreign ministry. Protests continued on Sunday with clashes between police and protesters.
Police fired tear gas and clashed with the thousands of protesters who gathered in the centre of the Lebanese capital on Saturday.
The Lebanese Red Cross said on Sunday morning that at least 65 people had been transported to nearby hospitals and another 185 were treated at the scene.
According to AFP, at least one police officer died in the clashes.
Meanwhile, Lebanon's prime minister said he would introduce legislation proposing early elections, calling on political parties to put aside disagreements.
Protesters widely blame government negligence and corruption for the explosion that killed more than 150 people and injured thousands earlier this week.
Officials have said the blast in Beirut was in part due to 2,750 tons of ammonium nitrate that was housed for years in a warehouse by the port.
Video shared on social media showed police firing tear gas at protesters who threw objects and attempted to access the parliament building.
Protesters who stormed the foreign ministry called for government ministers to resign.
There were impressive crowds gathered to protest with many observers stating that people appeared very angry over the explosion.
The explosion at Beirut's port left at least 300,000 people in the Lebanese capital homeless and damaged nearly half of the city.
Lebanese customs officials claim to have alerted authorities to the presence of the stockpile of dangerous material at the port.
A dire economic situation
The explosion came during the worst economic recession in Lebanon on record. The Lebanese currency has lost 80 per cent of its value against the US dollar.
Lebanese people began protesting corruption in the government late last year amid the unprecedented economic crisis.
Protesters blamed the government for decades of corruption.
The country has been in negotiations with the International Monetary Fund to save its sinking economy.
World leaders, including US and France's presidents Donald Trump and Emmanuel Macron, are set to take part in a conference call on Sunday aimed at raising funds for Lebanon. China, Russia and Egypt are expected to join as well.
"The immediate objective is to provide for the emergency needs of Lebanon, on conditions which allow aid to go directly to the population," the French government said.