Beirut explosion: Macron to visit Lebanon as countries offer help to devastated city
Comments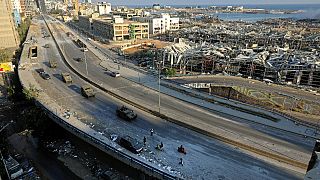 -
As Lebanon struggles to cope with the aftermath of Tuesday's huge explosion that devastated much of Beirut and caused widespread casualties, messages of support and offers of help have come from abroad.
France's President Macron is to visit the country on Thursday to meet Lebanese political leaders including the president and prime minister, the Elysée Palace has said.
The country is also sending several tons of aid and emergency workers. Lebanon is a former French protectorate and the two nations retain close political and economic ties.
The European Union is sending around 100 firefighters and other material specialised in search and rescue, said the EU's Commissioner for Crisis Management, Janez Lenarčič.
The Czech Republic, Germany, Greece, Poland and the Netherlands were taking part in the EU effort, with other countries expected to join the operation under the bloc's civil protection system coordinating relief aid from across the 27 member states.
Cyprus is sending in emergency personnel and sniffer dogs to Beirut, while the UK has pledged an aid package worth up to €5.5 million.
Russia has flown in a mobile hospital with dozens of workers and is organising further flights. Iraq is sending a medical team and supplies, while Egypt and Jordan are supplying field hospitals.
The disaster has left Lebanon's leaders, along with the rest of the population, deeply shocked.
Lebanese President Michel Aoun visited the site of an explosion on Wednesday. Earlier, Beirut's governor, Marwan Abboud, broke into tears as he toured the site around the devastated port area. "Beirut is a devastated city," he said.
Prime Minister Hassan Diab appealed for international help, as the government said offers of aid were pouring in from Arab states and friends of Lebanon.
Israel offers help
The explosion came amid ongoing tensions between Israel and the Hezbollah military group on Lebanon's southern border.
Israel has offered "humanitarian and medical aid" to its Lebanese neighbour, with whom it is still technically at war.
Trump's 'attack' comments rebuffed
President Donald Trump said the United States "stands ready to assist Lebanon". At the start of a White House news conference on the coronavirus, he said the explosion "looks like a terrible attack".
When asked by a reporter if he was confident that it was an attack, Trump said: "I met with some of our great generals and they just seem to feel that it was."
The explosion has been blamed on a large consignment of ammonium nitrate which had been stored at Beirut's port for several years.
Secretary of State Mike Pompeo offered US assistance on Wednesday.
"(The US) remains committed to assist with the aftermath of thus terrifying event," he said on Twitter.
Pompeo also "further stressed our solidarity with and support for the Lebanese people as they strive for the dignity, prosperity and security they deserve," a State Department statement said.
Concern over food supplies
On Tuesday, before the announcement of his forthcoming visit, Macron tweeted to say France "stood by Lebanon's side," adding that the country was sending "aid and resources".
British Prime Minister Boris Johnson also said on Twitter that his thoughts and prayers were with those "caught up in this terrible incident," and the UK was ready to provide support.
The explosion raises concerns about how Lebanon will continue to import nearly all of its vital goods with its main port devastated.
There is also the issue of food security in Lebanon, a tiny country already hosting over 1 million Syrians amid the country's civil war.
Estimates suggest around 85% of the country's grain was stored at silos destroyed at the port.
Lebanon's prime minister has vowed that "those responsible will pay" after the explosion.