Coronavirus latest: US funding cut would hit world's most vulnerable, says WHO
Comments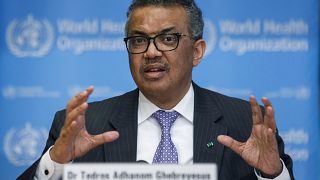 -
Copyright

Salvatore Di Nolfi/Keystone via AP
Summary of key developments:
A daily record 106,000 new COVID-19 cases were reported to the World Health Organization (WHO) on Tuesday

WHO says if the US cut its funding it would impact the world's most vulnerable

WHO says hydroxychloroquine has not yet been found to be effective against COVID-19

Trump takes another swipe at China on Twitter, despite earlier praising country's response

UK says no new cases reported in London in the last 24 hours

France to increase the salaries of staff in hospitals and care homes

British army veteran who raised millions for healthcare workers to be knighted
Follow the latest updates below:
05.20.2020
22:54
France to allow EU seasonal workers in: Ministry
France's Interior Ministry said that seasonal workers from other EU countries are allowed to enter the country provided they fill an attestation they must show the authorities.
The country partially closed its intra-EU and international borders in mid-March to stem the spread of the COVID-19 pandemic.
05.20.2020
22:04
Brazil allows chloroquine for 'mild' infections: President
Brazilian President Jair Bolsonaro said on Wednesday that as per the latest guidelines from the ministry of health, the controversial anti-malaria drug chloroquine can be administered "in mild cases".
He said that although the drug has not been proved effective, "it is being monitored and used in Brazil and worldwide" and that "worse than being defeated is the shame of not having fought".
The WHO reiterated earlier today its advice that nations limit the use of chloroquine and hydroxychloroquine to clinical trials because of potential dangerous side effects.
05.20.2020
21:59
US death toll passes 90,000
The number of confirmed infections has risen above 1.5 million following a 23,405 one-day increase. 
05.20.2020
20:55
China's contribution to fighting pandemic is 'paltry': Pompeo
US Secretary of State Mike Pompeo blasted the Chinese Communist Party on Wednesday.
He said the pandemic and the Chinese leadership response to it "have accelerated a more realistic understanding of communist China."
"The party chose to destroy live virus samples instead of sharing them," he said.
He added: "China's contribution to fighting the pandemic are paltry compared to the cost that they have imposed on the world. This plague has cost roughly 90,000 American lives, more than 36 million Americans have lost their jobs since March; globally 300,000 lives. Could be as much as $9tn, according to our estimates, cost imposition on the world by the Chinese Communist Party's failures."
"The United States has responded with about $10 billion to benefit the international response, everything from vaccine research to funding for preparedness effort and humanitarian aid. That's compared to a promise of $2 billion from the Chinese. I look forward to seeing them fulfil that $2 billion commitment," he also said.
05.20.2020
19:48
France revises care home death figures
France adjusted care home death figures on Wednesday due to "adjustments in the reporting of data from establishments".

The health directorate said there were 10,308 deaths in care homes, down more than 300 from the number previously reported, according to AFP.

There have been more than 143,000 cases of coronavirus in France and more than 28,000 deaths since the beginning of the epidemic.

The number of hospitalisations continues to drop with fewer than 2000 people in intensive care.
05.20.2020
19:18
NYC will offer free coronavirus testing in nursing homes
New York City will offer free coronavirus tests at the city's 169 nursing homes, Mayor Bill de Blasio said Wednesday, according to the AP.
"To me this comes down to, the seniors in our lives, what they have given us, what they mean to us, and what we owe to them, what we owe to them in terms of making sure they are healthy, making sure they are safe, always being there for them," de Blasio said.
Around 3,000 residents of nursing homes in New York City have died of COVID-19.
05.20.2020
19:15
German government and Lufthansa close to deal, Merkel says
The German government is close to a deal with Europe's largest air carrier Lufthansa, Chancellor Angela Merkel said.

"The government is intensively holding discussions with the company and the European Commission, a decision is expected shortly but I cannot give details of the discussions under way," Merkel said at a press conference in Berlin, according to AFP.
05.20.2020
18:54
UK government 'keen' for Premier League to restart
Britain's Culture Secretary Oliver Dowden said on Wednesday that he is "really keen" for the country's professional football competitions to restart and that "if we can get the Premier League behind closed doors, we should do that".
He said that broadcasting rights should be respected but that there could be some flexibility for broadcasters to show matches on free-to-air TV. 
05.20.2020
18:48
Be cautious about commercial antibody tests: Expert
Professor Stephen Powis, national medical director at NHS England, said that Public Health England has been evaluating antibody tests and that the plan is to then roll them out through health and social care settings.
On tests that can currently be bought online, he said: "I would caution against using any test that might be made available without knowing quite how good those tests are".
He also stressed that the antibody tests show if someone had had the virus in the past but that what we don't know at the moment is whether having antibodies "means that you won't get the virus again".
05.20.2020
18:36
London records 0 new COVID-19 cases
No new confirmed cases of COVID-19 were recorded over the previous 24 hours in the British capital, according to Public Health England.