Coronavirus- Italy releases over 4,000 from hospitals
Comments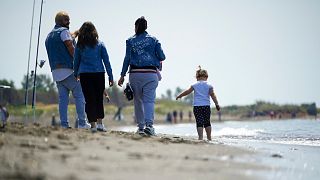 -
Latest developments
Italy releases over 4,000 from hospitals
Italy says a near-record 4,008 people were released from hospitals in the past day after testing negative for COVID-19 as the country continues its cautious reopening after a two-month national lockdown.
Another 1,083 people tested positive, half of them in hard-hit Lombardy, bringing Italy's confirmed number of cases to 218,268. Officials say the real number is as much as 10 times that.
Another 194 people died, one of the lowest day-to-day death tolls in recent weeks. The confirmed COVID-19 toll in the onetime European epicenter is 30,395.
Another 134 intensive care beds were freed up, bringing the total number close to 1,000. At the height of the outbreak, there were more than 4,000 people in ICUs, and the wards in Lombardy were nearly saturated.
80 more die of coronavirus in France within 24 hours
The coronavirus epidemic has killed 80 more in France with the last 24 hours. This is the lowest daily death toll since early April. All in all 26,310 have died in France since March 1, the Directorate General of Health said in a statement on Saturday.
The latest numbers are much lower than those from Friday. 243 had died within the 24 hours prior.
Four regions (Ile-de-France, Grand-Est, Auvergne-Rhône-Alpes, Hauts-de-France) account for 75% of hospitalized cases.
UK death toll rises by 346
A further 346 people in the UK have died after testing positive for coronavirus, raising the total number of deaths in the UK to 31,587.
In a briefing, the UK's Transport Secretary Grant Shapps announced an ambitious programme to prepare the transport network for the next stage of loosened restrictions. Due to social distancing rules, public transport will only have limited capacity. That means that many more people will have to walk and cycle to work.
Consequently, Shapps announced a £2bn package to put cycling and walking at the focus of the UK's transport policy. Those funds will, among other things, be put towards pop-up bike lanes, wider pavements and cycle and bus-only streets, he said.
With regard to the next phase of the strategy as well as more information on travel restrictions and quarantine rules, Shapps indicated that Prime Minister Boris Johnson will be giving more insight during his address on Sunday. "Importantly, it is true to say that moving beyond COVID will be a gradual process, not a single leap to freedom. So when we do emerge, the world will seem quite different, at least for some time," he added.
05.09.2020
16:09
Spain's daily death toll keeps falling
Death toll continues to fall in Spain, with 179 new deaths reported today. That is 50 fewer than yesterday. Overall the number of deaths climbed up to 26,478. There are 262,783 confirmed cases. 2,666 cases were registered between yesterday and today
05.09.2020
15:09
Belarus: Tens of thousands attend Victory Day parade despite Covid-19 outbreak
A full military parade of some 3,000 soldiers was held Saturday in Minsk, the capital of Belarus, which has not imposed restrictions to block the coronavirus' spread despite sharply rising infection figures.
Tens of thousands of spectators, few of them wearing masks, watched the event.
Some aged war veterans in the stands at the parade wore masks, but, in general, there were few masks to be seen in the throng of spectators.
President Alexander Lukashenko has consistently dismissed concerns about the coronavirus pandemic, calling it a "psychosis".
05.09.2020
10:55
Russia nears 200,000 cases
Russian authorities reported new 10,817 Covid-19 cases in the past 24 hours, bringing the total to more than 198,600 in the country, which has also recorded more than coronavirus-related 1,800 deaths, of which 104 in the last 24 hours.
The country today celebrates the 75h anniversary of Victory Day amid lockdown measures that left Moscow deserted.
05.09.2020
08:51
UK considering to impose 14-day quarantine on international arrivals
The UK government is planning to introduce a mandatory 14-day self-isolation on all international travellers coming to the country, except for those arriving from the Republic of Ireland.
This should come into force at the end of May.
Airlines UK, the industry association representing UK-registered carriers, commented these speculations saying that it "would effectively kill international travel to and from the UK and cause immeasurable damage to the aviation industry".
UK Prime Minister Boris Johnson is expected to announce this measure tomorrow.