COVID-19: Vulnerable Britons must stay at home for 12 weeks, says PM Johnson
Comments
By Euronews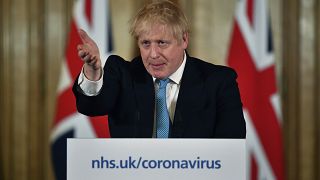 -
Copyright

Leon Neal/Photo Pool via AP
The British Prime minister Boris Johnson and the UK government announced on Sunday that vulnerable people would be asked to stay at home for 12 weeks as part of "shielding measures" to slow down the spread of the COVID-19 coronavirus pandemic in the UK.
"We have to shield the most clinically vulnerable people", the British Housing Secretary Robert Jenrick said.
The people who will be identified by the NHS as clinically vulnerable and at risk of complications if they catch the virus will receive a letter in the next week asking them to stay at home for at least 12 weeks, Jenrick said.
Jenrick added that the measure is estimated to apply to 1,5 million people.
Dr Jenny Harries, Deputy chief medical officer for England, said that clinically vulnerable people would be delivered food and would receive care at home.
"The reason why we are taking these unprecedented steps is that we have to slow the spread of the disease, to save thousands of lives", Johnson said.
"Stay at home if you possibly can", he added.
He also warned that "tougher measures" would have to be introduced in the UK if people did not apply the current social distancing measures such as staying a home whenever possible and keep a distance of 2 metres between people.
"Of course I want people to got to the park, but don't think that fresh air in itself provides immunity", Johnson warned.
"You have to stay 2 metres apart, you have to apply social distancing. Take this advice seriously, follow it, it is absolutely crucial."
"This is not the time to apply curfews and prohibitions", Johnson said, adding that if the British people did not follow the current measures, the government would be "forced to bring restrictions on people altogether."
Johnson also thanked the pub and restaurant owners who have had to close their business: "Thank you for your sacrifice, I know how tough it must be", he said.
"The government is standing behind British workers, businesses and employees during this crisis."
Advice against panic buying
The British government on Saturday advised against panic buying as the UK began applying lockdown measures.
In a press conference, British environment secretary George Eustice, chief executive of the British Retail Consortium Helen Dickinson and National Medical Director of NHS England Stephen Powis advised the public against stockpiling goods.
They said there has been an "increase in demand" but reminded the audience that there is "no shortage of food production" in the UK.
"More food is arriving everyday. We ask people to buy only what they need and think of others when purchasing", they said.
Speaking from platforms with messages reading "Stay at home", "Protect the NHS" and "Save lives", they said that many UK businesses with operations in other European countries had observed a similar phenomenon than the current British panic-buying: "Demand spikes after declarations by government, and then slows down again."
They noted that the British public had particularly panic-bought toilet paper, "for reasons that haven't quite been explained", because it is produced locally and well-stocked.
They repeated the need for applying social distancing and self-isolation measures set out by the British government: "If fewer people are infected, there are fewer deaths and fewer pressure on our health services. The strategy is absolutely design to suppress and reduce the virus and the number of people infected."
They also reminded the public about common responsibility, saying that it is "absolutely crucial that everybody in the country follow the guidance".
"This is all our problem", they said. "If you do it, you are saving somebody's life. it's as simple and stark as that."
Friday's Lockdown announcement
This came after British Prime Minister Boris Johnson announced on Friday that cafés, pubs and restaurants are to close in the evening in strengthened measures against the spread of COVID-19.
The government also unveiled an "unprecedented" package of financial measures to keep the economy afloat.
Speaking during his daily briefing from Downing Street, Johnson said that "we are collectively telling cafes, pubs, bars and restaurants to close tonight as soon as they reasonably can and not to open tomorrow, though to be clear, they can continue to provide take out services".
Other public places including clubs, leisure centres and gyms have also been asked to close on Friday.
"We need now to push down further on that curve of transmission between us," Johnson added, thanking people for following advice given to stay at home as much as possible.
'Unprecedented' financial package
Chancellor Rishi Sunak also presented what he said is the "most comprehensive" financial package in the world to ensure British workers and businesses weather the economic impact of the public health crisis.
He described it as "unprecedented in the history of the British state".
Sunak said companies will be able to apply for government grants to pay for salaries and that it will also cover 80% of wages of employees who are not working.
Businesses will also be able to defer VAT payments while business interruption loans will now be interest-free for 12 months, instead of the six months previously announced.
These measures should inject £30 billion into the economy and a further £7 billion has been earmarked for the welfare system, Sunak said.
"In the face of a generation-defining moment, we want to remember that we stood together," he added.
'Turning the tide'
Johnson said on Thursday that the country can "turn the tide within the next 12 weeks" on the spread of COVID-19 but did not rule out imposing a lockdown if people did not respect social distancing measures.
"I'm absolutely confident that we can send the virus packing," Johnson said during a press briefing from Downing Street.
He added that the country was in negotiations to buy antibodies tests that could enable people to know whether they had had the virus. He said the test "has the potential to be a total game-changer" has it would allow people who had unknowingly contracted and recovered from the disease to return to work.
He called on people to follow the advice already given to avoid gatherings and visiting non-essential places including restaurants and pubs.
He stressed however that "nothing is ruled out" and that the government "may have to consider going further" if these social distancing measures are not followed scrupulously.
High fatality rate
On Thursday evening, the UK had 3,269 reported cases and 144 deaths
Data released earlier in the day had revealed that the country has one of the highest coronavirus death rates in the world with 40 deaths per 1,000 infections - similar to China's.
When compared to all countries that have reported more than 1,000 cases, it is the third highest in Europe and the fifth-highest overall.
But the UK has the 10th highest number of infections globally.
The UK government has received criticism for its response to the pandemic as other countries have declared national emergencies, closing bars, restaurants and schools and banning large gatherings.
The highest death rate affected is in Italy, where more than 83 cases out of a 1,000 are fatal.
On Wednesday, t​he number of deaths in the country rose by 475 in one day to nearly 3,000.
Iran, China and Spain all have higher death rates than the UK, per 1,000 cases.
Meanwhile in Germany, where there are more than 12,000 active cases of coronavirus, only 31 deaths have been reported. With this ratio, just 2 of every 1,000 people who are diagnosed with coronavirus die.
Among European countries with more than 1,000 confirmed cases, Austria, Belgium, Denmark, Norway, Sweden and Switzerland all have a low mortality rate for COVID-19.