Italy coronavirus shutdown: what the emergency measures mean
Comments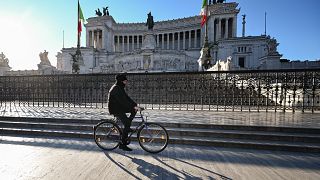 -
Copyright

VINCENZO PINTO/AFP
Italy was under a week-long lockdown on Tuesday after the government extended a travel ban from Lombardy to the entire country in a drastic bid to halt the world's second-biggest coronavirus outbreak.
"There won't be just a red zone," Prime Minister Giuseppe Conte said as he announced the measures.
Italians moving around must sign a form self-certifying that they are travelling for "proven work needs,'' situations of necessity, to buy drugs or to return home.
Anyone caught making a false delcaration faces a sentence of up to three months in jail or a fine.
Public gatherings are forbidden and shopping malls need to be shut down over the weekends.
Grocery shops and pharmacies are the only exception to the closure rules.
Schools are closed, and ministers are considering a delay to the post-Easter holiday restart date.
Italian doctors celebrated one small victory after the first patient diagnosed with the illness, a 38-year-old Unilever worker, was moved out of intensive care and began breathing on his own. But the virus' rapid spread was forcing them to operate like war-time medics, triaging patients to decide who get access to scarce ICU beds.
"Unfortunately we're only at the beginning," said Dr. Massimo Galli, head of infectious disease at Milan's Sacco hospital.
Dr Elisabetta Groppelli, a virologist and lecturer in global health at St George's University of London, said isolation measures had a "massive impact" in fighting the disease in China.
"The virus can be killed with soap and slowed down by isolation," she said. "We should remember how much we can do. We need to think beyond ourselves and our individual situations."
She added: "For the past two generations we have been lucky to go about our lives as we want, and this outbreak is a reminder that occasionally it will happen again that we need to make changes to the way we live and think as a society rather than as individuals."
Other restrictions on movement
Anyone showing symptoms of respiratory problems and fever is strongly advised to stay at home and limit all social contact, including with their doctor.
Anyone confirmed to have coronavirus will be compulsorily confined to their homes.
Companies, both public and private, are encouraged to put their staff on leave.
Public gatherings
All sports competitions and events, whatever their nature, are suspended. Only those linked to Olympic Games preparations, or major national or international events will be allowed – and only behind closed doors.

All ski resorts are closed until further notice.

All cultural, sporting, religious or festive events are suspended. Cinemas, pubs, theatres, museums, dance schools, gaming arcades, casinos, nightclubs and other such places will have to remain closed.

Bars and restaurants can remain open from 6am to 6pm as long as they respect a security distance of at least one metre between customers.

Shopping centres and major shops must remain closed on public holidays and preceding days.

Religious venues remain open on condition they respect the one-metre distance rule. However religious ceremonies such as weddings and baptisms are banned until further notice.
Coronavirus cases rise
Italy registered 1,807 more confirmed cases as of Monday evening, for a national total of 9,172 and 463 deaths.