Macron will not release any more bears in the Pyrenees, herders say
Comments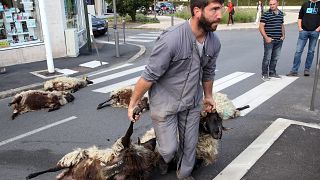 -
Copyright

(AP Photo Bob Edme, File)
French President Emmanuel Macron has promised to halt the release of bears into the mountains of the Pyrénées, say herders, who claim the animals have killed hundreds of their sheep.
After a meeting with Macron on Tuesday, Pierre Pommies, a herder who raises sheep and cows in the mountainous border region between France and Spain, said: "He promised that the re-insertions (of bears) are finished, that he won't release any more."
"He was able to understand that it's a big problem for us," Pommies added. "We have reached the bottom, and the situation was ridiculous for Pyrenean herders."
Ecology minister Emmanuelle Wargon's spokesperson confirmed to Euronews that there were no plans to release any more bears in the Pyrénées.
France's brown bear population looked likely to become extinct in the 1990s after decades of hunting, but the country began importing the animals from Slovenia and released them into the wild in 1996, 1997 and 2006. In 2018, two Slovenian female bears — Claverina and Sorita — joined them.
There are now believed to be around 40 bears in the wild in the Pyrénées, double the amount since 2010.
That increase has led to a surge in attacks on livestock, say officials, with 400 in 2018, up from 100 to 200 in previous years.
'They had to finish them off with their knives'
Herders who suffered included one of Pommies' friends, he told AP, whose flock was devastated in an attack last year. The sheep took fright and plunged off a cliff together.
"There were 256 piled up at the bottom," he said. "They had to finish some of them off with their knives. For us shepherds, that is traumatic."
He believes the presence of the predators is simply "incompatible" with the Pyrenean mountain economy that rests largely on herding.
"I love bears. I'm passionate about them as animals. But I love that they live happily in Yellowstone, in Canada, in Romania and Slovenia," he said. In the Pyrénées, "the people who are pro-bear say that it used to work for the old timers, that they used to deal with it. And that is completely false. History shows that men have always killed them."
Rights groups angered
But rights groups have been angered by the news that Macron will halt re-introductions. In a statement, Ferus, an advocacy group, said that the president had "yielded, once again [...], to the most radical and violent fringe of of agricultural representatives."
Ferus contests the reports of livestock attacks by bears, and pointed out that farmers receive healthy compensation payments from the French state when their animals are killed.
Alain Reynes, director of the group Country of the Bear, told AP he believes the actual number of animals killed by bears is far smaller than the 1,500, mostly sheep, that Pyrenean herders claim they lost last year.
Reynes also said that Macron's moratorium on bear releases can't last, because France is obliged by European law to ensure that the bear population remains viable.
"The president can only speak for the period of his mandate," he said. "There have always been bears. The history in the Pyrénées is one of cohabitation, even if it hasn't always been easy. ... There have been bears in Europe for 250,000 years. This is their space."
Slovenia's brown bear population is so plentiful that authorities are culling the animals that are becoming a headache for farmers, raiding beehives and even attacking people in the small Alpine state. Around 170 bears were shot in 2019, said Damjan Orazem, the Forest Service director.